If you're looking for a worrying parent or an overbearing lover and are concerned about the safety of your loved ones, you might have always wanted to look for an application that will help you monitor your loved ones all the time. Well, Eturi Corporation heard your concerns and they're here with their own unique Parental Control app called "Our Pact".
What is OurPact?
OurPact is a unique kind of Parental Control application that is aimed at making it easier for you to control your loved ones' digital lives, and to track them in real life using real-time map locations.
The funny thing about this product is the fact that you can even use it for your employees or student body members if you own a company or are a member of the school board.
Features of OurPact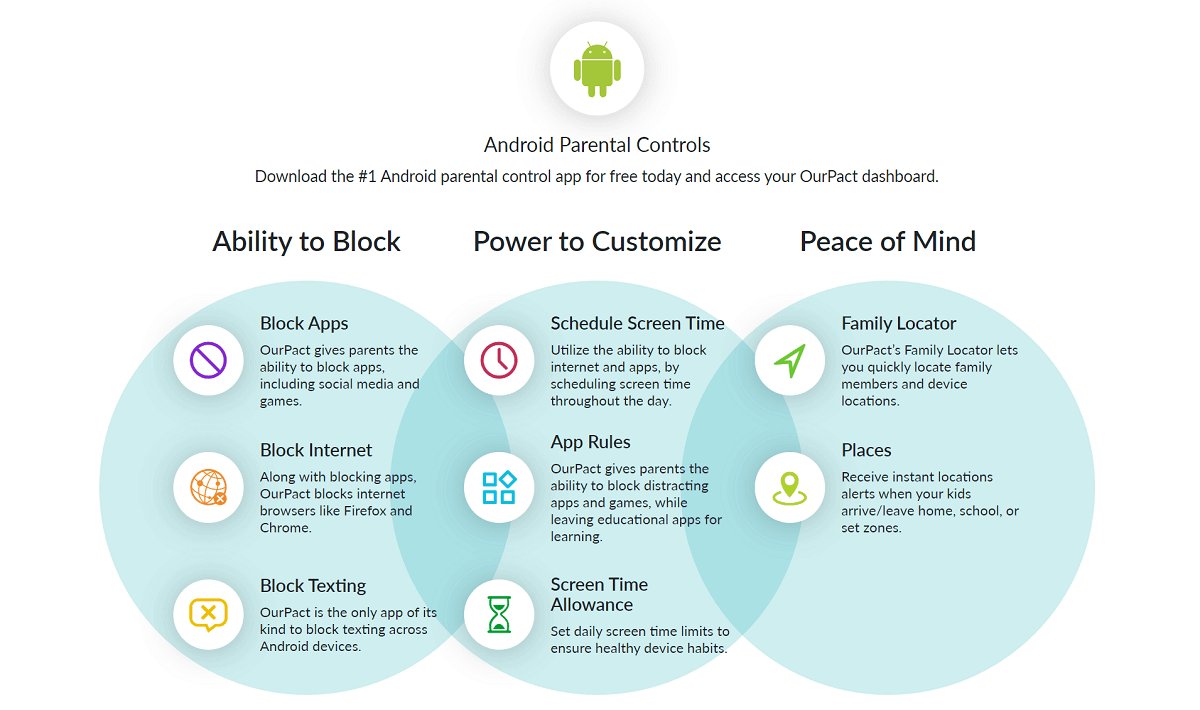 OurPact is an excellent product and has a lot of features that will definitely try to entice you if you're looking for a parental control app.
It's free
The first thing that's so great about OurPact is the fact that it is free, and you can start using it right now. But like most applications out there, OurPact isn't completely free.
As a free member, you only get access to 1 schedule at a time and can set block 5 applications on the child/employee's mobile phone from accessing the internet. Finally, you can only use 1 child device with this free membership.
There are two paid memberships: Plus and Premium.
With Plus, you get access to unlimited schedules and internet blocks and can manage up to 10 devices at a time. All of this for just $2 a month.
With Premium, you get all the features of Plus, but with 20 devices management at a time, and access to many other features like "Screen Time Allowance", "App Rules", "Family Locator", "Places", and "Block Texting".
Screen Time Allowance
With this feature, you can set a time out for each device you're handling. For example, if you set 1 hour time out for your child's device, the screen on that device will turn off automatically after 1 hour, and won't turn on until you give it the permission.
This will ensure that the child does not spend all their time on a mobile phone screen.
App Rules
This unique feature gives you, the parent/teacher, the ability to block specific apps from being opened. For example, you can block your student/child from playing Minecraft or ROBLOX.
Schedule Screen Time
By using the ability to limit internet and apps to a certain time, or for a certain period of time, concerned parents can rest easily knowing that their child won't spend too much time on any application, or use the dangerous roads of the internet.
Family Locator
By giving access to the device's internal GPS system, you can safely track the location of your child without doing much effort. You can have your peace of mind at home, or in the office, knowing where your child is right now.
No need to worry about weird vans now.
Places
OurPact allows you to set specific conditions where if the child's device enters the vicinity of a tagged location, you'll instantly get a notification. You can use this to limit your child from entering a specific building or from visiting a person who you think will have a negative influence on the child's health.
The possibilities are infinite with this feature.
Works on a whole lot of devices
Android isn't just present on Mobile Phones. Android is also implemented on Android Smart Watches, and many other devices.
Since OurPact works on all Android devices, you can just make your child wear an Android Smart Watch or anything similar to this, and rest easy. As long as the device has an active internet connection, OurPact will be able to track them.
Cross-Network
The best thing about OurPact is the fact that you can use this application without having to worry about being on the same Wi-Fi connection. As long as the other device has an active internet connection, whether it be a 200 miles away Wi-Fi or mobile data, OurPact will keep you connected with the child's device.
You can use this fact to send your child to Boarding School, and not have to worry about them getting lost or anything similar in catastrophe to that.
How does OurPact work?
OurPact is a cross-network application that uses the various features present inside an intelligent device like the iPhone or Android phone to track and log all data.
But how does OurPact actually work?
Here's a small breakdown:
There are two types of users on OurPact
Parent User: The users that have access to OurPact dashboard and the ability to control the child user's entire device, and the various features that are available based on their subscription. Parent User can either be an iPhone user or an Android user.
Child User: The end-users of the application, on which the entire application is based on. These users will have their device's various features locked. Similarly, they will also lose access to location privacy. The child user can only be an Android user, due to the many limitations of the iOS platform itself.
How to install
Install the parent app on your iPhone and then install the child app on your Android phone. Make an account and you'll be swiftly prompted to get help on learning everything you'll need on the app.
Compatibility
The application works on all Android versions above Android 4.4 for Android devices. For iOS devices, you'll need a compatible iPhone, iPad, or iPad touch with at least iOS version 9.3.
Customer Service and Support
If you wish to contact the customer service over at OurPact, you can contact it using the email address: [email protected].
The customer support for iOS seems great but seems to be faltering on the sides of Android.
Common Questions
Q. Will this work with my child's Samsung Galaxy S4?
A. Indeed, if you're able to update your child's S4 to Android 4.4+, you'll be able to make it work.
Q. My app doesn't work. Can I get a refund?
A. For Android, you can contact Google Play Store for a refund. Though it'll be difficult because the app does offer a free version with fewer features than you could test before buying the better version.
Q. Can I use this app on multiple phones?
A. Yes, you can. The Plus subscription offers management of 10 devices at once. If you buy the Premium subscription, you can upgrade that to 20 devices at once.
Q. Why does it keep Force Closing?
A. The issue may be with your Android/iPhone device. Try clearing the application's data and trying again. If it still doesn't work, reinstalling the application may be your only option.
Q. Is the app a one-time purchase or a subscription?
A. The application is free, with a monthly subscription service. You can cancel any time you want.
Q. Is the app safe?
A. Yes, the application was removed from the Apple store a while ago, but it has been cleared of any pending issues and is now completely safe to use.
Pros & Cons
Pros:
Small in size, has a lot of features and works exactly as it is intended on iOS.
Cons:
Has crashing and other issues on Android and the subscription rates are a bit high for an application which has low Android support. If you're a pure iPhone user, though, it'll work great.
The Best Alternative to OurPact: TTSPY
The best alternative to OurPact is this amazing application called TTSPY. TTSPY does exactly a lot of what OurPact does, only that it does so much more too.
There are so many features in this application that you'll be absolutely bedazzled by it. Heck, you might even become addicted to a parental app. What an irony, right?
Features of TTSPY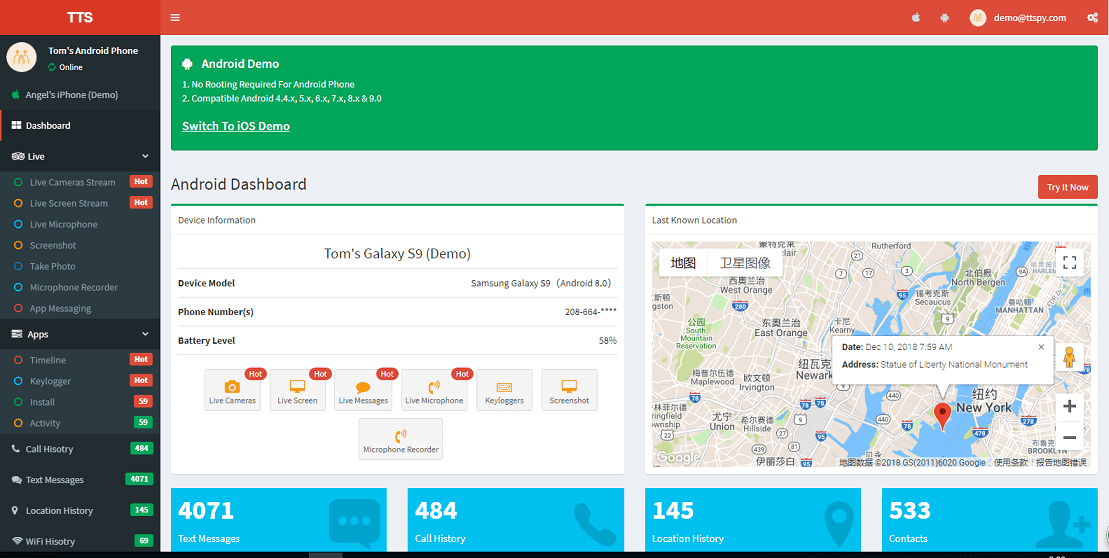 Filled with dozens of features, TTSPY makes OurPact look like a small snotty kid who thinks he knows everything.
Here are some of the features TTSPY boasts so freely about:
Live Camera Stream – Able to view and check both cameras at any time.
Live Screen Stream – Able to see what the user is seeing on the screen
Live Microphone – Able to hear what the user is saying, all the time.
Screenshot – Take screenshots of the screen
Take photo. – Take a picture from both cameras.
Microphone recorder – Record what the user is saying.
App Messaging – Check the user's messages, on many applications like Messenger or WhatsApp.
Keylogger – Log what the user used at a specific time.
Timeline reviewer – Check the user's timeline
Activity reviewer – Check the user's activities for all time.
Call History – View who the user called
Text Messages – View who the user sent messages to
Location History – Check the user's past location history
Battery Level, Phone Number, Device Model – Check the user's current battery level, phone number and device name
Images, Videos, Audios – Inspect all images, videos, and audios that are present inside their phone.
Conclusion
If you're looking for an amazing product that can help you check and see what your family member is actually doing all the time, you should go for TTSPY. But if you wish to stay simple, and don't want to pry too much into their personal lives, OurPact can do just fine.
Though OurPact costs only $6.99 a month, the features it has are a lot less too. With TTSPY, you're spending $49.99 each month. That is the sacrifice you have to make if you want to check everything on your loved one's cell phone. The choice is up to you. Personally, I would go with TTSPY.