Apple designed Find My Buddies this year as a way for much better-connecting with buddies and family. It's pretty helpful for scenarios when you really need to help keep tabs at a theme park or to obtain a live ETA whenever your buddy is due collect you in the airport terminal. You may also share where you are with other people to allow them to track your location along the way regarding your day.
It struck me can't this be employed to effectively monitor someone?
Sure, you'll need consent from both sides before discussing an area, what basically would enable Find My Buddies on another person's iPhone, then share their whereabouts to my iPhone without one knowing?
I made the decision to give it a try, and not just could it have been increasingly simple, it had been also fairly incognito-once switched on, the individual you are tracking never gets to be a notification or alert of any sort. Whether or not the body else decides to spread out Find My Buddies-which many people bury inside a folder anyways-it isn't very apparent that they are being tracked. It really implies that you are an admirer (and never an obsessed person).
Once setup, you are able to monitor every movement of the individual you are stalking. Not just that, but you may also set reminders when ever they leave or arrive a particular location, if you wish to be especially intrusive.
So whether you need to monitor your children or know precisely where your spouse goes in the evening, I am going to inform you how you can track someone's location without one knowing.
When the person you need to track is running iOS 8, you will need to download the Find My Buddies application in the iOS Application Store on their own phone, in addition to yours. On iOS 9, that is already available, Find My Buddies is really a stock application which will be around the device.
Step 1 Enable "Share My Location" on their own iPhone
Start by opening the Find My Buddies application on their own iPhone, then tap on their own contact picture at the end to allow "Share My Location" in the settings.
Also make certain the location has been shared from "This Product" (underneath the "Share My Location From: " setting), as there might be other devices (as an iPad) that are affixed to exactly the same iCloud account.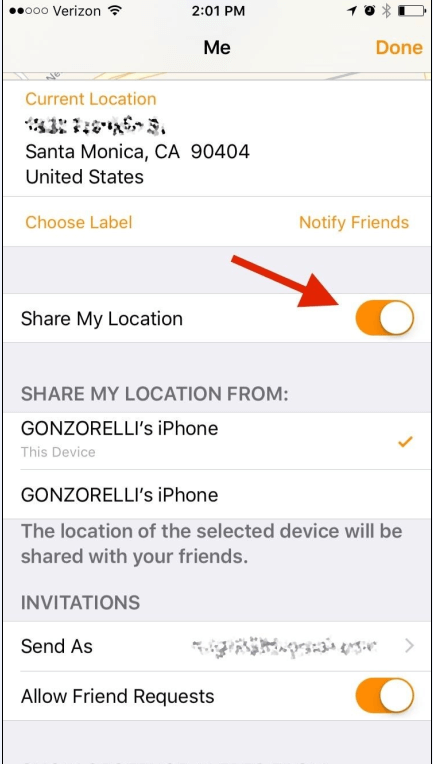 Step 2 Share Their Whereabouts for your iPhone
In your iPhone, swipe up from the foot of the screen to allow AirDrop in the Control Center. Be discoverable to "Everybody", even though the "Contacts Only" option will suffice as lengthy his or her iPhone has your contact details saved into it.
Back on their own iPhone, tap on "Add" striking your contact icon if this seems. Select "Share Indefinitely" to talk about their whereabouts for your iPhone to have a limitless period.
Step 3 Accept Their Whereabouts Don't Share Yours Back
Once their whereabouts is shared for your device, hit "Accept." Following a couple of seconds, a popup can look asking if you wish to share where you are together. Tap on "Don't Share" so they can't track where you are.
Step 4 Track Their Whereabouts
Within the Find My Buddies application, just click on their own contact icon to determine their exact place in real time. You will also see choices to be notified when they leave or get to a particular location, so that you can alert yourself if somebody leaves their property or work (yeah, creepy).
Obviously, all this is most likely determined by explore getting caught. Fortunately, many people will not head to their Find My Buddies application, as well as when they do, they'd need to positively take a look at who they are discussing their whereabouts with.
But, there are a handful of methods to hide the application so they don't even realize they've it.