mSpy is an amazing application for phone tracking. This app has some amazing features that you need in your everyday life. Moreover, you can install this app on any Android and iOS smartphone. Moreover, many of its features don't require root access on an Android phone. mSpy has many features to help employers, parents and common folks in their daily life. Now, you might question, "Why I need such an app?" Here are some reasons.
Why we need mSpy?
mSpy, as the name suggests, is a phone monitoring application that can track your phone. Not only the location but also it can also track many activities going on that phone. Let us take an example, you are a parent and you want to know when your child is away from home. So, you can install this app on your child's phone and get an alert when your child leaves home. This app takes advantage of geofencing.
If you have this app on your phone and misplaced your phone, you can see the exact location of the phone on the dashboard. This can be a great feature if you move around a lot. Also, if you run a business and want to monitor your employee's activities, you can use the app. Using this app, you can also view your employee's web history. This feature can help you know your employee's intention. Having such powerful features in hand makes everything quite transparent. Now let us know some of the powerful features of mSpy.
Features of mSpy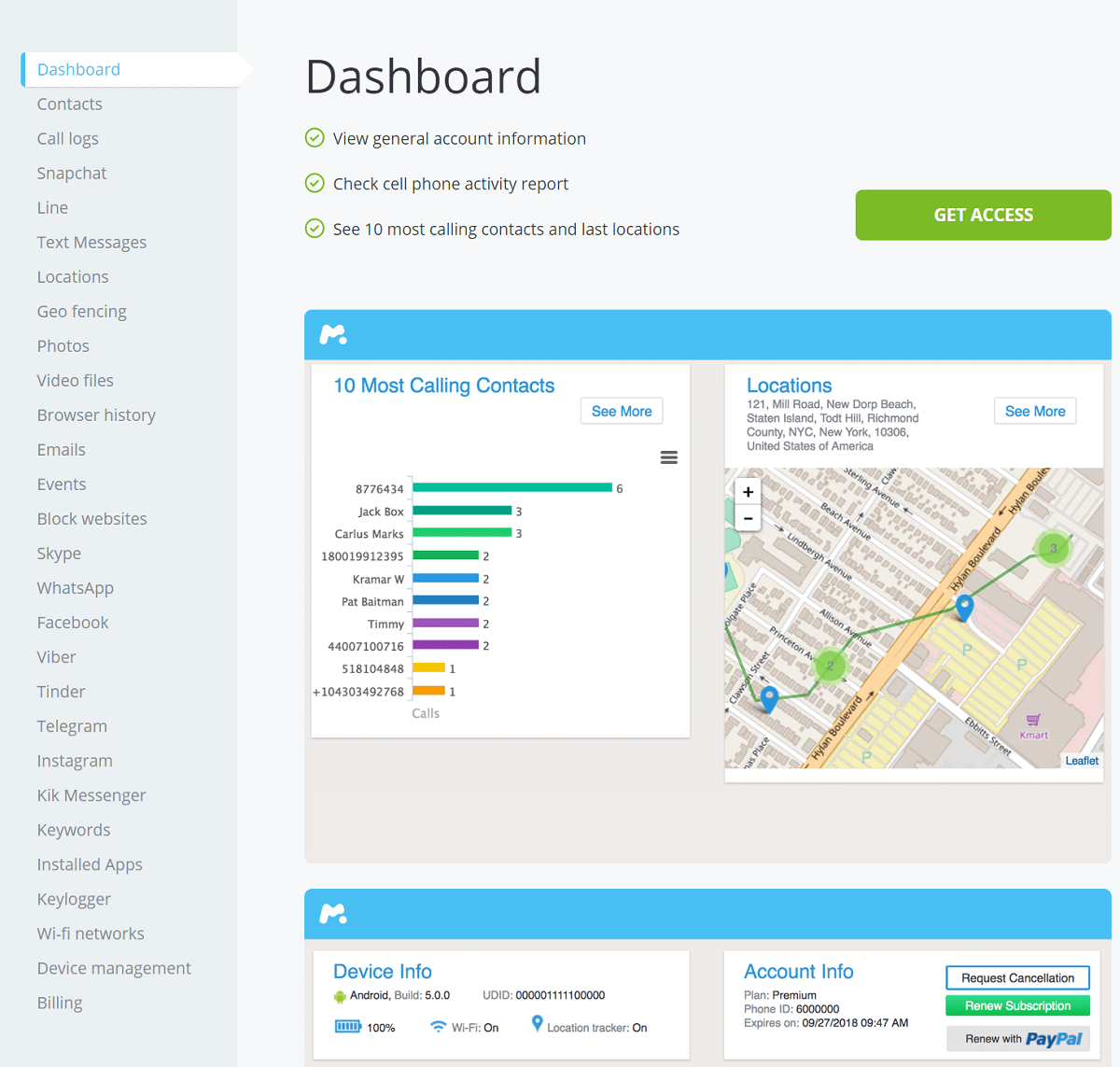 Web history monitoring
The app can fetch web browsing history and saved bookmarks from the target device. Using this feature you can know what the target is searching for on the web. This can be of great help to observe the intent of your children or employees. Also, if you have teenage children, it will be of great help. About 32% of teenagers view explicit content daily. So, all these features will help to keep your children in the check.
Monitor online activity
Filter Web content
Check time and date stamps
View browsing history
Photo access
This app helps you to view the photos on the target device. This is a great feature and can help you in many situations. If you have teen children, you can get great help with this feature. Using this feature, you can know what your child is watching, whom your child is meeting and many more.
Call Log and SMS Monitoring
The feature call monitoring using which you can view the call log of the target device. The app shows all types of calls including outgoing, incoming and missed calls. Also, mSpy provides SMS monitoring using which you can get all messages from the target device on your dashboard. Also, you can remotely block calls from certain numbers.
View all outgoing and incoming calls
Access the information about a contact from the address book
View call duration, timestamps, and chronology
Block spam or unwanted calls
Keylogger
mSpy comes with a keylogger. The keylogger records all keystrokes and sends it to the server so that you can view that. This is a great feature that helps you to know what the target user is typing. The most important advantage about this feature is, you get to know the deleted text using backspace. It's awesome, isn't it? Moreover, 43% of kids are victims of cyberbullying. Using mSpy Keylogger feature, you will always have a clue what your kid types on their phone and will be able to read every keystroke on their keyboard. You will be notified immediately if your kid uses dangerous word combinations in search or messages or sets up a meeting with any person. Here are some more advantages of keyloggers:
Parents can monitor their kid`s smartphone activities and capture all the entered keystrokes on their device
Law enforcement may use it to analyze and track incidents linked to the use of personal computers
You may track your own devices
Geofencing
Statistics say that every 40 second a child goes missing or is abducted. In this case, geo-fencing plays a vital role in the safety of your child. This also ensures that your child stays at home in your absence. Furthermore, this gives you an alert if the child moves out of the virtually fenced zone. Using mSpy, you can create virtual fences around your home, your child's school, and other locations and get alerts when your kid leaves them. Setting fences is helpful to protect your kid from visiting dangerous or remote areas of the city.
WhatsApp monitoring
mSpy can monitor activities on WhatsApp. It can read text messages, view multimedia files and monitor Whatsapp calls on the target device. You can track all messages sent, received and even the deleted ones remotely from the mSpy control panel.
How mSpy works and how to install and setup it?
A strong and robust backend powers the app. The app has an amazing web dashboard for you to view the gathered data. The app works in the background and sends continuous data to the server in an encrypted format. This ensures that there is a secured transfer taking place. To start using the app, you have to purchase a license from the official website. Then, you need to install the app on the target phone. After installation, you have to grant the required permissions. Then, you have to create an account or login to the app to start receiving data to your web dashboard. Simple, isn't it? The whole setup process takes less than 3 minutes to complete.
Compatibility information
You can find the compatibility of the app on Android and iOS. Also, there are two separate versions of jailbroken and non-jailbroken iOS devices. All the basic features of this app like call log monitoring, SMS monitoring, and some others are supported on both Android and iOS.
Customer service and support
mSpy has good customer service. Their website has an automated response system. Moreover, they provide 24/7 Live Customer Support. But, many times their updated FAQs can solve your problems.
Common questions
Now, let me answer to some of your common questions.
What devices are supported by mSpy?
mSpy is compatible with smartphones and tablets that run:
Android 4+
iOS 7 – 8.4; 9.0 – 9.1 with Jailbreak
iOS 7 – 11+ without Jailbreak
Does mSpy work worldwide?
mSpy works regardless of the location of the target device or the cellular network and is compatible with all service providers (carriers). However, mSpy requires an active Internet connection to transfer data to your personal account (Control Panel – your account that will be created after purchase), thus mobile Wi-Fi connection or mobile internet must be switched on the target device.
Is it legal to use mSpy?
mSpy application was designed to help parents to help employers keep their workers productive and parents to keep their children safe and its usage is absolutely legal.
Where can I check data from the monitored device?
Once mSpy is set up on the target device and is connected to our server, the information will be automatically displayed in the dashboard of your personal account that can be accessed from any browser.
Pros and Cons
Pros
Remote installation available on iOS.
Keylogger available
Can read Whats chats
Can read Facebook activity
Supports popular social platforms monitoring
Can block app
Can block calls
Geofencing alerts
Cons
Some advanced features need root or jailbreak
Keylogger is not available on Basic version
mSpy VS TTSPY (Android Monitoring Features)
| Android Features | mSpy | TTSPY |
| --- | --- | --- |
| Live Cameras Streaming Remotely | | |
| Live Screen Streaming Remotely | | |
| Live Microphone Remotely | | |
| Screenshot Remotely | | |
| Take Photo Remotely | | |
| Microphone Recorder Remotely | | |
| Timeline | | |
| Geofencing | | |
| Keylogger | | |
| Install | | |
| Activity | | |
| Call Hisotry | | |
| Text Messages | | |
| Location History | | |
| WiFi Hisotry | | |
| Browser Hisotry | | |
| Contacts | | |
| Calendars | | |
| Images | | |
| Videos | | |
| Audios | | |
| WhatsApp | | |
| Facebook | | |
| Messenger | | |
| Snapchat | | |
| Skype | | |
| LINE | | |
| Instagram | | |
| Viber | | |
| Kik | | |
| Tinder | | |
| WeChat | | |
| QQ | | |
| Hangouts | | |
| Telegram | | |
| Messenger Lite | | |
| Facebook Lite | | |
| Tumblr | | |
| Other Apps | | |
mSpy vs TTSPY (iOS Monitoring Features)
| iOS Features | mSpy | TTSPY |
| --- | --- | --- |
| Call History | | |
| Text Messages | | |
| WhatsApp | | |
| WhatsApp Contacts | | |
| Line | | |
| Line Contacts | | |
| WiFi History | | |
| Location History | | |
| Browser History | | |
| Contacts | | |
| Calendars | | |
| Notes | | |
| Voice Memos | | |
| App | | |
Final thoughts
mSpy is a great parental control application that can be used in many fields. It can help many people in their daily activities, but if you need more live monitoring features, TTSPY should be your best choice.