It is undeniable that apps play a significant role in our lives. All platform from Windows, Android and iOS have a wide range of respective software. While some are free, others have a trial period (mostly a month), and others are paid applications.
Monitoring software also follows these rules of engagement. Since most people are wary of spending money on unfamiliar choices, they would rather test the free version first. More people who rather have a free application because there is little consequence or loss without an investment. If you are looking for quality, however, you will be looking for the priced and highly-priced applications just like you do with other products and services.
Overview
Online activity has grown to uncontrollable extents in terms of influencing society. The global society has been transformed by the rapid changes on the Internet thanks to the social platforms and their ability to communicate faster each day. The downside is that criminally minded people perpetrate their crimes on the internet and there is not enough machinery to stop this from happening. As a result, children are exposed to a host of vulnerabilities. They easily fall victim to some of the most heinous crimes on earth today.
The sad part is it can happen right under your nose as a parent and you will not detect a thing until it is too late. If your kid is constantly, on their smartphone, it is only wise to consider following up on their activity lest they stray, get trapped and not go beyond repairable boundaries. Choosing a monitoring application is just the beginning of your tracking activity. For example, you have a choice to take a free application, a trial or a paid solution that you trust in the long term. The choice depends on your preference, but you need to make an informed decision hence the relevance of this information in this article.
Lets us explore these options before you make a decision on acquiring software for tracking kid's online activity.
Free Software
The free application is the most widely available to the public. Without cost, they are attractive options to try out. All you need to do is download and install the app to use as they are based on open source platforms. Over time, they have increased abundantly across the board. These applications often have either part-time or full-time contributors sustaining them. Some of the free apps rely on advertisements to sustain or generate profits.
If you have a free app, you will notice that there are uncontrollable displays of ads. Some of these methods seem unethical as they are infested with adware and malware installations. You will notice the persistent pop-up of videos, some changes in the homepage and toolbars of browsers, and other irritating fluctuations. Avoid these problems by taking a keen interest during installation. You should not take any software just because it showed up first or prompted you with colorful designs.
free-to-try software
As the name suggests, you can try the app for some time before you make a decision to purchase or lose it. Most of the apps are trial versions of paid applications. The logic is for the user to test and assess the use of the app hoping they find it useful. In most cases, the owner of the app is confident enough regular use will solve the problem of the user and they will want more of it. After the stipulated number of days (mostly a month), you will begin to experience trimming of the features, as it gets unstable. You will need to pay a certain amount to continue using the app. TTSPY is one such application.
Paid Software
These are premium version applications designed for professional use. They come with dedicated customer support for frequent updates and bug fixes. These applications can be installed in a wide range of specified devices. On the bright side, they are mostly free from ads so you can have a smooth un-interruptible experience. Note that there are many pirated versions of paid monitor applications. Although illegal, these applications thrive at the expense of the clueless users. They may contain harmful viruses and not recommended for use.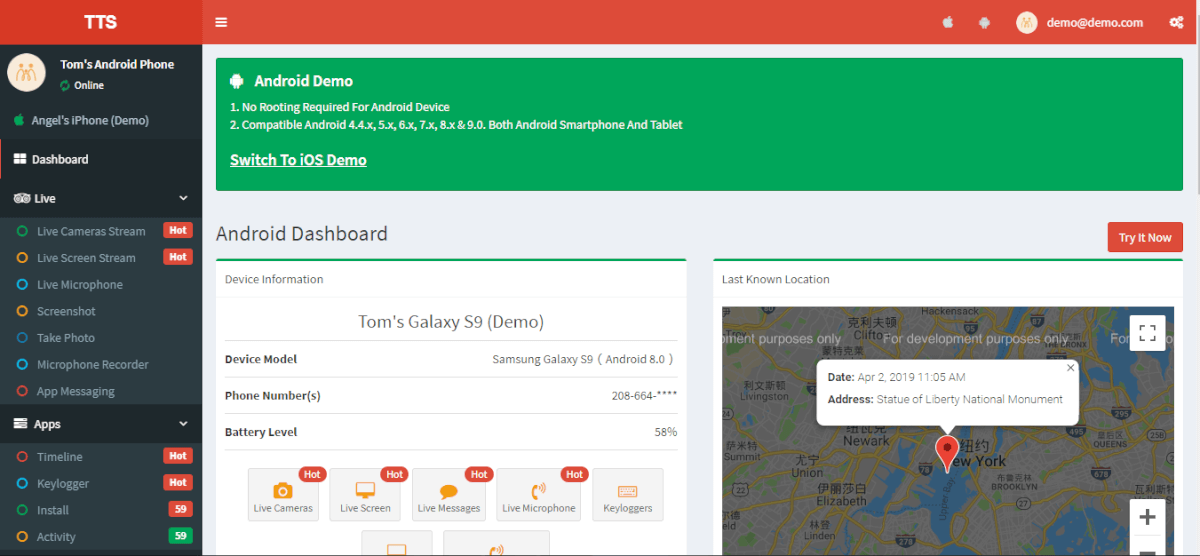 TTSPY as an alternative
TTSPY has been gaining more confidence among customers over the years. The danger of internet use among teenagers is appalling enough to warrant urgent intervention. Many studies have proven that kids are falling victim to many online-related criminal activities.
Statistics have already shown that the negative influence of online use is responsible for up to 30% of data breaches in education, over 40% breaches in public administration, at least 58% of the financial industry and 68% in healthcare. Although it is least in education, it is almost a third of the breaches. Furthermore, at least 30% of the kids use their phones to sext, 34% face cyberbullying (especially in high school), while over 40% were exposed to predator-strangers. The need for monitoring is no longer an option but a necessity today.
Considering the sensitivity of the vulnerability of kids on the internet, TTSPY provides a trial version for users to explore the features before purchasing it. The software is designed to protect children, supervise employees, and monitor families. With a positive drive, the TTSPY can help users live safely with their loved ones as they protect their businesses.
Although there are limited features on the free version, it has the basic ones, which give it the reliability it needs. You can be confident that you will pay for the paid version and enjoy the full features to help you control the kid's smartphone. Remember that this solution will also help protect your business and intellectual property as well. You can understand the world better by following up on your kid's activities. There is so much to find out that not tracking them will leave you misinterpreting their moves and failing to know the latest occurrences. TTSPY is, therefore, a considerable option to take as you try to take charge of the security of your loved ones and business.