As a parent in today's world, it has become even more challenging to monitor your child, especially with the prevalent use of smartphones. A child might be at home but you don't know what they are doing on their phone. They could even be watching porn or texting with friends who are a bad influence.
All types of things can be done on the child's phone which is why it is important for parents to monitor what their child does when on the phone. With the availability of the internet, your child could be watching nay inappropriate or harmful for their development. He could develop dangerous habits such as masturbation when watching porn on his phone at a young age.
The child could even be talking with friends who are a bad influence, These friends could teach him inappropriate things through the phone. It is vital for parents to find a way in order to monitor their child's every move in order to parent their child in the best way one can. Therefore, it is essential for parents to use an app to monitor their child's iPhone or Android device.
This is where TTSPY comes into place, it is the ultimate monitoring app and has the feature to check your child's live phone screening in order for better parental control of your child. The app is available for most iPhone and Android devices.
How to Get the TTSPY App?
It is quite easy to download the app on your phone to use the live phone screening feature. The TTSPY app is one of a kind as it offers parents with real-time monitoring functions. In order to download the app, parents will need to use a third-party app which can be found on Play Store and App Store.
A great thing about the TTSPY app is the fact that it does not require jailbreak for an iPhone or rooting for an android phone. The app is available for both iPhone and iPad as well. The app works smoothly on most Android and iPhone devices. Once, you have a third-party app on your phone, you can download the TTSPY app through it. As soon as the TTSPY app is downloaded, you can enter the phone details of your child and start using the live phone screen streaming feature without your child even finding out.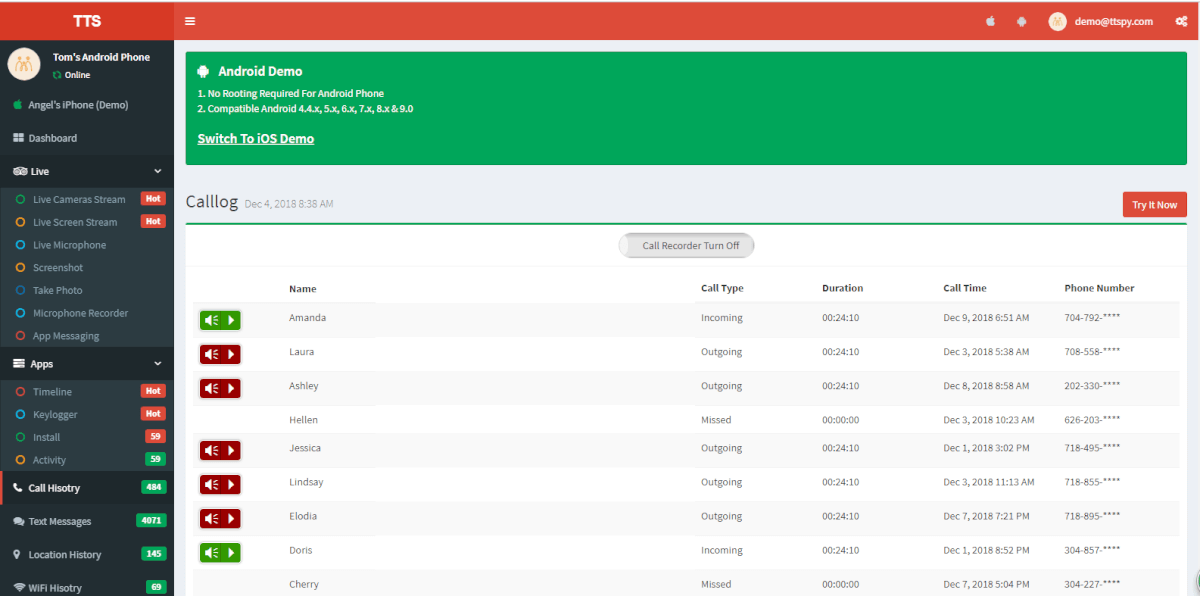 Other Similar Live Phone Screen Streaming Apps
There are various live phone streaming apps which are available for androids but much less for an iPhone. An app which is available for both iPhone and Android is hard to find. The features which these live phone screen streaming apps have are limited. Neither of the apps has all the features needed in an ultimate phone monitoring app unlike TTSPY which has the most features in a phone monitoring app.
There are limitations to the ability of similar apps and none of the apps has the features which are of a match to TTSPY. If you download another app, then you would need to download multiple apps, whereas if you use TTSPY, then it is the only app which you will need.
Why Should Parents Choose TTSPY
Parents who are looking for the ultimate live phone screen streaming app which has all the features to monitor your child should use TTSPY as parents can even take a screenshot of the live phone screen streaming to show your child later what they have been up to and to take the decisions necessary to ensure parental control.
TTSPY is the best live phone screen streaming app for parents and is available for both iPhone and Android devices. It has all the features in an app to access your child's phone completely without them ever finding out.
When you the various features on the app, you will know everything about your child, who they speak with, spend time with, where they go, what do they talk about, and the entire daily routine of your child. There are various benefits of using the app as a parent.
        Check on the activities of your child regularly.
        Access their phone without them finding out.
        Easy to spy on your child.
        Has a user-friendly interface which makes it easy for parents to use.
        Keep an eye on your child's every move.
        Can be used from anywhere, especially if parents are away.
Other Powerful Features on the App for Parents
There is a reason why parents rely on the TTSPY app. Since the app is available for iPhone and Android devices, parents can easily use it on their phone. Take advantage of the most powerful live phone screen streaming app for parental control out there.
The app has various features that give parents the ability to ensure complete parental control for their child. The app has many more features besides just live phone screen streaming.
Live Location
Parents can use the live location feature to know the whereabouts of their child at all times to ensure that their child is safe and at the right location. Teenagers are one of the toughest to handle, especially when they sneak out at night to hear to parties or even the club. Parents can immediately check the live location of their child and even take a screenshot of the location.
Live Rear & Front Camera
If the live location wasn't enough for you, then you get to use another powerful feature of the app which is the live rear and front camera to spy on your child and see what they are doing. If they are spending time someone you had specifically warned them not to hang out with or if they are doing something inappropriate.
Other Features
Other powerful features available for parents to use include access to messages, pictures, browser history, and even the activity on apps downloaded by the child such as WhatsApp or Instagram.
The Ultimate App for Parents
TTSPY understands the importance of parental control for a child's upbringing which is why it has created an affordable app for live phone screen streaming and much more for parents. Being a good parent is important for you and allowing you to be a good parent is important for TTSPY. Download TTSPY now for better parental control of your child.