Location tracking is no doubt a highly beneficial and innovative technological advancement helpful in many problematic situations. For the same reason, most of the phones nowadays come with built-in GPS location tracking features. However, GPS is not the only way for real-time location tracking. There are various apps available on android and iOS app stores as well that efficiently do this job of location tracking.
Real-time location tracking comes in handy especially for those who are concerned for the safety of their family or friends and wish to keep updated of their location. By using location trackers, you can immediately know the exact location of your loved one along with where he/she is going and was recent. Moreover, location tracking is also beneficial for business purposes to manage employees by tracking their location, arrival, and departure. To help you get started, we have assembled the list for the top 10 ways for real-time location tracking.
TTSPY: Real-Time Location Tracker for Android & iPhone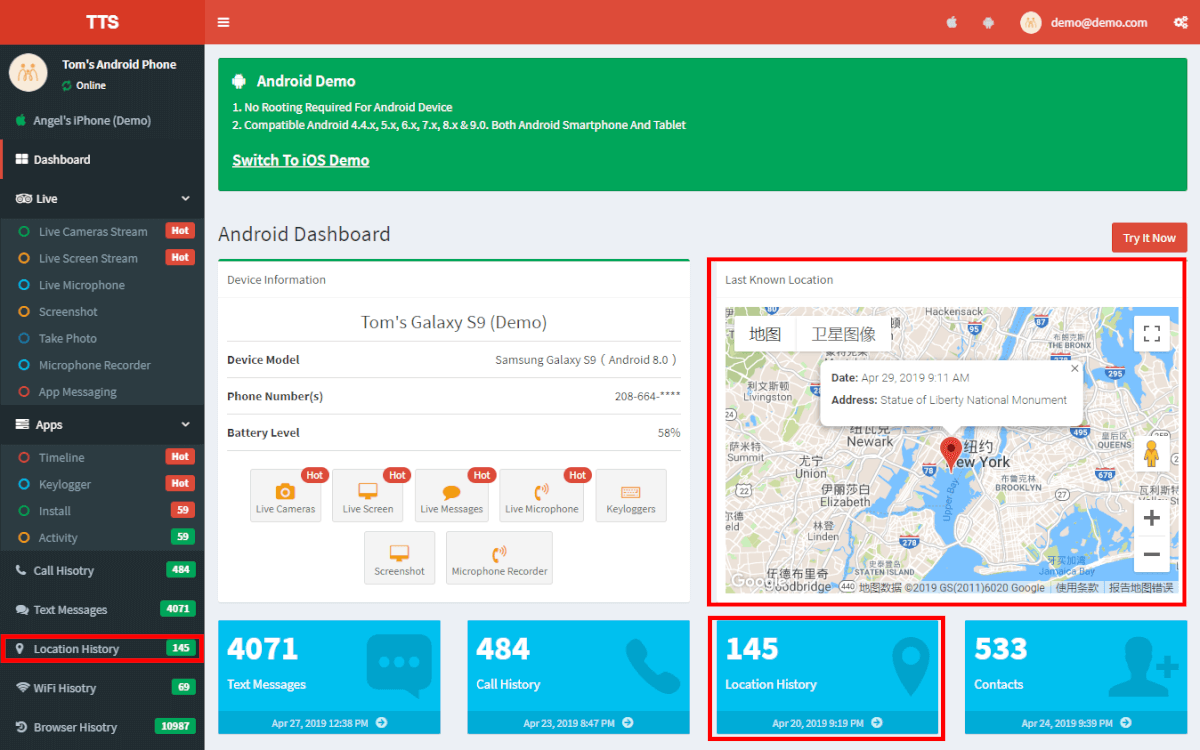 If you seek a way for efficient real-time location tracking then TTSPY is the right app for you. It is supported by almost all the latest and leading models of android and can instantly figure out someone's location. Not only that, but it can also keep a record and notify you of all the past locations and places visited. Apart from location tracking, it can access vital information of someone's device such as call logs, pictures, text messages, keylogger, and contacts, etc.
Its web-based user-interface that is easy to use. Moreover, TTSPY will also provide a detail of the social media activity of a certain device. If you are looking for an ideal location tracker app that effectively does its part, then TTSPY promises you all that. The app is available in free mode apart from premium and ultimate versions that come with a cost.
Glympse is known to be one of the best location tracking app that is compatible with multiple platforms. The app comes with an amazing real-time location tracking system that efficiently spots the exact location of whomever you want to track whether it is your family member or employee. You can use it either for personal or professional purposes. Location tracking and sharing don't ask for any additional downloads. Moreover, the app also offers built-in messaging features and other navigation options. You can manually enable or disable the app and the location tracking by a simple stroke of touch.
Glympse also provides geofencing features as an additional perk. Furthermore, this location tracking app is compatible with both android and ios devices. The only con related to Glympse is that it is not available in stealth mode. However, the app is available for free of cost and you can effectively do what you intend to without spending a single penny. All these ergonomic features combine to make Glympse one of the best app for real-time location tracking and among the top positions in our list.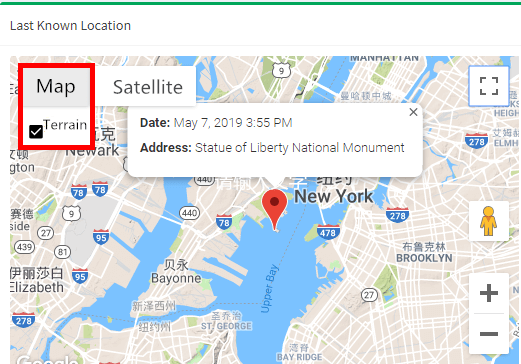 We know Google maps as a destination finder but what you might be surprised to know is that google maps also allows sharing location with your trusted contacts on a real-time basis. To track location, you'll need to have access to the target contact's Google account. You can also view and keep a record of all the past locations of a certain contact on a monthly or yearly basis.
This built-in location sharing system of google maps is available for all platforms along with the web version. You'll have to select the contacts and add them on the list to which you wish to track the location of. Next, the selected contacts will immediately start having access to your location. However, the contacts will have to approve your request for location sharing. You can manually set the time for which you want to share the location. This time duration varies from 1hour to 72 hours. Also, you can keep the location sharing turned on for an indefinite period until you wish for it.
Life 360: Real-Time Location Tracker for Android Phone
Life 360 is a perfect choice if you wish to be updated about the whereabouts and safety of your family friends. It is available on multiple platforms of android and iPhone. Also, life 360 has built-in socializing features that let people stay in touch and aware of each other's locations. Its check-in feature keeps others notified about your location and lets them know that you have reached a specific destination.
Not just family members, you can also keep a check on your employees and form a circle of networking with clients where you can know where a certain client is located at a time. Thus, its real-time tracking system is great for your business as well apart from domestic use. A prominent feature of Life 360 is that it automatically notifies you when someone, whom you wish to track, reaches or lefts a certain designated place. Therefore, you don't have to manually use real-time location trackers every time to check their current location. You'll get notifications timely without having to do anything yourself. The basic version of Life 360 is available for free while the premium version comes with a price tag.
Hubstaff: Time Tracking and Productivity Monitoring Tool
Hubstaff is one of the leading real-time location tracking apps for employees and business purposes. It is widely preferred and used by organizations and companies to manage their teams. It is available for both android and ios. Once you start working with Hubstaff, you can manually mark the job sites where the app automatically calculates when an employee enters or leave a certain location. Thus, its geofencing system makes it sufficiently easy to track the working location of your team.
Consequently, you get all the details and information related to the work tracking including time taken in transit, route history, when employees enter or leave. Its efficient GPS location tracking feature records all the history and instances for the entire day. No wonder, Hubstaff is considered by many the best real-time location tracking software to manage employees. The premium version of Hubstaff includes more features but comes with additional charges as well. However, its price is worth all the benefits it offers.
FollowMee: Real-Time GPS Tracking Mobile App
FollowMee has a GPS tracking system that converts your phone, whether it is an android or iPhone, into a GPS tracker. By downloading this app, you can conveniently and quickly track anyone's location. You can keep an account for the whereabouts of your family, friends, or loved ones on the official website of FollowMee. One of the most cherished features of this location tracking app is that it doesn't require a separate internet contingency. You only need a wifi connection to track or upload data. However, you'll be pleased to know that even if the wifi connection gets interrupted somehow, the app continues to keep a track of location with every data being saved timely.
FollowMee keeps you notified of recent real-time updates constantly. You can manually set the time interval by which you wish to receive the updates. Apart from that, FollowMee is also a vehicle tracking app that keeps a record of all the places and locations of a certain vehicle in which there is the device you are tracking. Not to forget, you get all these features and perks for free.
Trusted Contacts is a real-time location tracker app to trace the location of your family members, friends or employees. This app is easy to use and has standard working. Once you download the app, you'll have the option to select the contacts to which you trust with your location and provide access to it. After doing so, your trusted contacts will receive an email notifying them that they are now on your list of trusted contacts. Next, you'll be able to share locations with the selected contacts and it is all so easy.
Trusted Contacts is a basic family tracker app with tracking features that allows you to send messages to your friends declaring your current location and vice versa. A highly attractive benefit that Trusted Contacts offers is that your target audience doesn't necessarily have to download this app as well for the location sharing to work. They don't even need a google account as Trusted Contacts can trace and share locations via a simple browser. All that is required is to enable the Google location for both parties. As an extra feature, Trusted Contacts also displays the battery status of your smartphone. You'll be pleased to know that this family-friendly family tracker app is free of cost.
Apart from android, there are many great and efficient working real-time location tracker apps available for iOS as well. One such location tracker is Find My Friends which is considered among the leading family tracker apps for iPhones. Like every other location-sharing app, you'll have to select the contacts with whom you want to share the location. After your selected contact approves your request, you'll be able to track their location on the map.
Find My Friends comes with many unique functions that keep you enlightened with your target contact's movement and location. You'll receive notifications as the contact leaves or arrives at a certain location. Find My Friends is available to use free of cost. However, it is strictly limited to Apple devices.
Sygic Family Locator focuses on tracing the location of the target audience through GPS-supported services. To use the service, you have to enable the GPS on both of the devices and save information on each other by linking together. After that, Sygic Family Locator will keep you updated on whereabouts of your friend and family. Another unique feature that this app has is to mark certain spots on the map where you wish to prevent your kids from going. In case, your kids somehow ward off to those locations, Sygic Family Locator will notify you instantly.
Thus, you can manually mark safe zones and unsafe ones while the app keeps you notified when someone from your contact enters there. As an added safety function, Sygic Family Locator features an SOS option that immediately notifies you of the exact location of your contact when the button is pressed. Furthermore, it also sends notifications as your child enters or leaves certain locations such as parks, etc. Sygic Family Locator is available for free for basic version while the premium version has a price. It is an efficient and user-friendly family location tracker app.
KidsGuard Pro is a unique name on our list for the best ways for real-time location tracking. This is because KidsGuard Pro not only acts as a great location tracker app but comes with several other effective methods to monitor your child. After installation, this app becomes hidden on the home screen of your device. As a result, only you can configure and use the app since the safety of your kids lies in your hands.
It can easily track the location and keeps you notified about it constantly. You'll get the precise GPS location along with the name of the destination. Apart from tracking the location, KidsGuard Pro also allows viewing browser history, photos, messages, call logs and contacts. So, it acts as a complete guard to monitor the entire activities of your child's cell phone. However, as you might have suggested, all the high-end real-time location tracking features of this app make it a bit pricey as well.
Conclusion
Each of the above-stated apps will do well for location tracking. Whether you prefer real-time location tracking to keep a check on your kids or friends or is it for professional purposes, these apps will perform to your expectations. As a result, you won't have to worry anymore about the safety of your child or employees slacking off during work. Do read the privacy policy of an app before using and make sure not to misuse these apps by stalking or spying on someone. In this regard, also go through your country's rules and laws related to accessing someone else's location. However, in a nutshell, you are sure to benefit from these real-time location trackers in one way or another.