Parents these days need to be able to know where their child is, whom they are with, what they are doing and what they are talking about. Teenagers are especially hard for parents to control as they sneak out every now and then and don't pick up the phone, making it incredibly hard for parents to know how their child is.
No matter how old your child gets, they will always remain a child for you. It is important for parents to be able to control their kids and know about their whereabouts at all times as well as who their child spends time with. It is a critical age for kids and any bad influence on them could turn their habits bad as well. Kids are always on their smartphones and do not let their parents know much which is why it is essential for parents to find a way in order to keep an eye on their child at all times.
It has become a huge challenge for parents to control their kids these days and monitor them at the same time which is why it is vital for parents to use an app to monitor their child's iPhone or Android device.
This is where TTSPY comes into place, it is the app which parents need to use in order to access the live front and rear phone cameras of their child for better parental control. The app is available for most Android and iPhone devices. The TTSPY app is one of a kind as it offers parents with real-time monitoring functions.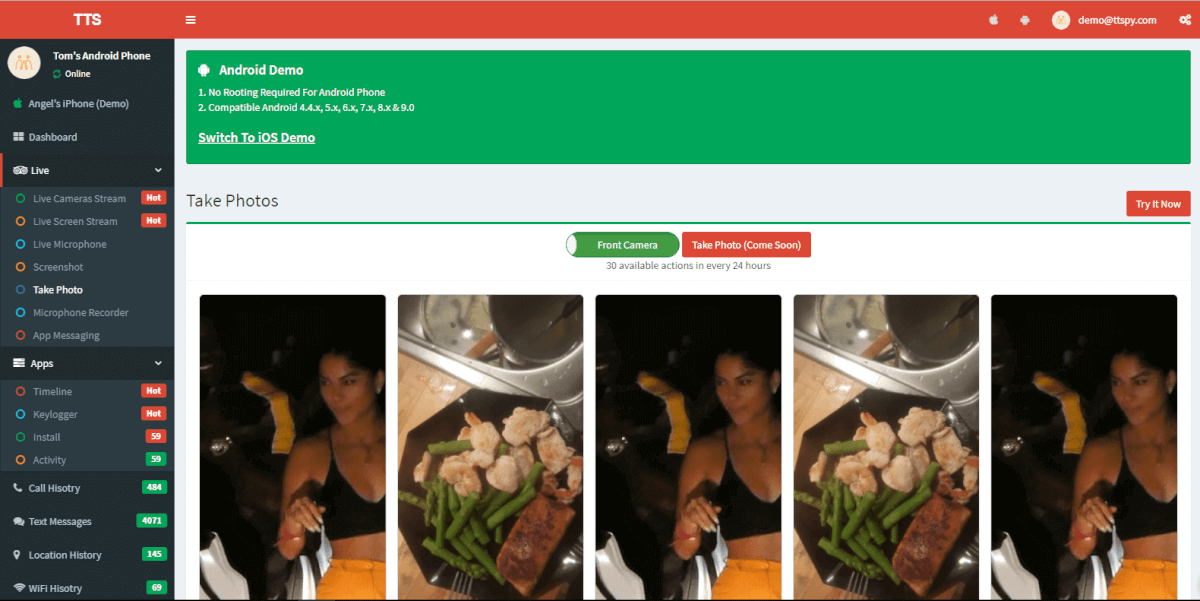 How to Download the TTSPY App on your Phone?
Parents don't need to worry as the TTSPY app is easy to download on your phones. As it is available on most iPhone and android device, you can download it onto your phone. Now, before you think about downloading the app on your phone, it is important to download a third-party app on your phone first as it is needed in order to download the TTSPY app which can be found on Play Store and App Store.
Even though you need a third-party app to download the TTSPY app on your phone, a great thing about the app is that it does require rooting for an android phone or jailbreak for an iPhone. It works perfectly on all devices, even an iPad.
Firstly, you need to download the third-party app and once you have done that, you can move on to downloading the TTSPY app on your phone. It does not take much time to download the TTSPY app and as soon as it is downloaded, just enter the phone details of your child and start using the live phone cameras streaming feature without your child even finding out.
Similar Apps for Live Phone Cameras Streaming
You can find similar apps online for live phone cameras streaming but most of them are fakes and require too much information from you. Also, similar apps may seem expensive, unlike TTSPY which is an affordable and powerful option for you. Working parents might have difficulty paying for a spying app and TTSPY understand this, hence affordable options are available on the app.
Other similar apps which are an available online lack in quality, features and user-interface. It is almost impossible to find an app which is available for both iPhone and Android devices which is why TTSPY is the app you need. Other apps have lacked the features which TTSPY has.  
Why Should Parents Choose TTSPY for Spying?
When parents use TTSPY for spying on their kids with the live phone cameras streaming feature, they will understand why TTSPY is truly the best app out there for spying or hacking your kid's phone. Parents can even take a screenshot of the live phone camera and they will be able to hear whatever their child is talking about or the surroundings with the microphone.
If you are looking for the best live phone cameras streaming app for parental control, then you need to use the TTSPY app. The app has all the features which parents need in order to access their child's phone entirely and know about everything that the child is doing without them even finding out a single thing unless you want to tell them on your own.
There are various features that are available on the app and will help you know everything that you want to about what your child is doing and whom he hangs out with. As a parent, it is important to use an app which can help parents know what their child does and monitor their activities.
Experience the Powerful Features
Parents need to use the TTSPY app in order to find out why it is one of the most popular apps being used by parents all across the country and even abroad. As the app is available for both Android and iPhone devices, you can download the app on your phone without any issues. Make use of the most powerful live phone cameras streaming app for parental control out there.
Take your parenting control to the next level with the powerful features available on the app.
Access Text Messages
Besides the live phone cameras streaming feature, parents can use the access text messages feature to view all the text messages of their child on their own phone. As a parent, it is important to know who your child speaks to and about what, therefore, the feature will allow you to read all the text messages on your child's phone.
Live Location
The live location is a critical feature as it allows parents to ensure that their child is safe and know about their whereabouts at all times. You will know where your child is and if he or she is at the club, studying at the library or bunking class.
Other Useful Features
Other useful features available for parents to use include access to pictures, browser history, and even the activity on apps downloaded by the child such as facebook or WhatsApp.
Use the App for Your Child's Safety
When your child is young, they don't really see the difference between right and wrong. With the influence of peer pressure, even a good child could end up doing something wrong which is why parents need to use TTSPY in order for them to ensure parental control of their child at all times with just a tap on the screen of their phone.