There are many reasons why it is important to be able to view another cell phone's screen remotely such as in the case to monitor your child, employee, lover or even friend. In today's age of technology, one needs to be able to know every move of the person they care about for their safety or for the business to remain competitive and succeed.
You might want to view your child, employee or lover's cell phone's screen to know what they are doing, whom they are talking to and are they even loyal to you behind your back. Why ask such questions and be called jealous when you can actually check on your own and find out the answers. You need to know if your child is watching porn online or anything inappropriate.
With the development of the internet, anyone can do just about anything on their phone and that is why it is important to view their cell phone's screen remotely without them ever finding out. If you are on the lookout for a way to view another person's cell phone's screen remotely, then you need to use TTSPY which is the ultimate app for monitoring someone. The app is available for most of the iPhone and Android devices. Use the app to find out all the answers you have been looking for.
How to Download the TTSPY App?
Since the TTSPY app is available for both iPhone and Android devices, all you have to do is use a third-party app to download the app on your phone. It is relatively easy to download and does not take much time. The app offers users major features which aren't available on any other app. Download a third-party app from Play Store or App Store to be able to download the TTSPY app on your phone.
One of the best things about downloading the app is that it does not require you to use jailbreak for your iPhone or to use rooting your android device. It is easy to download the app and to use it.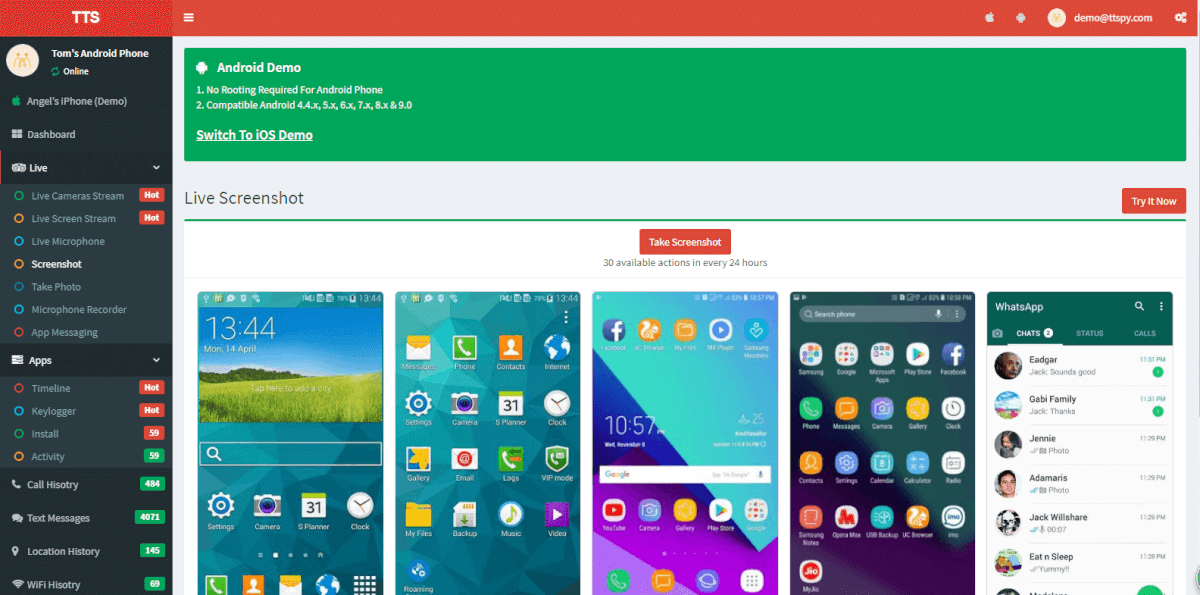 How to Use the View Cell Phone Screen Feature?
Once, you have downloaded the TTSPY app, you can start using the app after filling the details of the person you want to spy on. As soon as the details are entered, there are many features which will pop up, so tap on the viewing of cell phone screen option and you will see the live streaming of what the person is doing on their phone.
Similar Cell Phone Screen Viewing Apps
Various cell phone screen viewing apps can be found online which have different features available. There are some apps for iPhones and some for Android devices but very few are available for both iPhones and Android devices such as TTSPY.
None of the apps which can be found online have the extensive features which are available on TTSPY making it the best monitoring app for you. TTSPY has a diverse range of features which will help you spy on anyone you want.
Why Choose TTSPY
TTSPY is your best solution to viewing another person's cell phone's screen remotely without them even finding out. Sometimes, it is just necessary to be able to view someone's cell phone screen so as to know what they are doing.
One needs to know what their lover is up to and if they are even loyal or not. It is hard to trust anyone these days, especially lovers, employees or your children. It is easier for people to lie to someone when they are on the phone as compared to in person which is why you need to check what they are doing on their phone. The TTSPY app even provides you with the screenshot feature so that you can take a screenshot of the person's activities on the phone.
Using the TTSPY app for viewing another person's cell phone screen will help you know everything about that person, what they are up to, where do they go, who do they spend time with and even listen to what they about. Here are some of the various advantages of using the app.
        Keep an eye on the person on a daily basis.
        View the phone without the person even finding out.
        The easiest way to spy or hack someone's phone.
        The best user-interface for one to use.
        Use the app remotely from anywhere.
Other Useful Features on the App
The TTSPY has quickly become very popular for everyone to use due to the useful features which are available on the app. As the app is available for Android and iPhone, anyone can download the app on their phone and use the powerful features on the app besides just viewing someone's cell phone screen.
Take your spying or monitoring skills to the next level with the various features available on the app just for you.
Browsing History Feature
A great feature of the app is that you can check the browsing history of the person you want to spy on. Check out all their activities online such as what do they search online, who do they talk to, what do they watch, and if they watch any porn such as in the case of your child.
Live Location Feature
Make use of the live location feature which will give the most accurate live location of whomever you want to stalk. Use the feature to know if your child has reached a place safely or to check if your lover is anywhere his ex's place.
Live Rear & Front Camera Feature
Another powerful feature that is available on the app is the live rear and front camera feature as it allows you to check what that special person is up to, whom they are with, what are they doing and even talking about as the microphone can also be accessed.
The Ultimate App for You
TTSPY is one of the most affordable and best apps out there to spy on someone or hack their phone. It has all features needed in an app to make spying as easy as eating pie. Check the person's app activities, text messages and call log to keep an eye on them at all times without them even knowing. Use the TTSPY app now to know everything you want to know.