It is quite simple how the TTSPY Live Spy Camera App works, all you have to do is download the app on your Smartphone and on the person's Smartphone you want to spy on. Remotely access their live phone camera to keep an eye on them. It doesn't get easier than this.
Downloading a spy camera app on your child, bestie, girlfriend or employee's Smartphone is a great idea. There are many benefits of downloading an app which will help you monitor the person you believe needs to be spied on. There are many situations where it will be use of to have a spy camera app. It is however, important to do it legally and always choose an app which has various features.  
Use Live Spy Camera App to Monitor Just About Anyone
Research shows that up to 71% of teenage girls and 67% of teenage boys share sexually suggestive content online with their dating partner which is why it is vital for parents to download a Spy Phone Camera App on their child's Smartphone to keep track of what their child does. It is the responsibility of parents to help their child understand the dangers of sharing personal photos online with someone.
With a huge surge in sexual crimes, parents need to be vigilant and do what they can in order to safeguard their child which is why downloading a Spy Phone Camera App will help stop any potential personal photos from being shared online.
Keep Track of Your Partner with a Live Spy Phone Camera App
Spy Phone Camera Apps are a great way to keep track of your partner as the app allows you to monitor every single thing your partner does when on their Smartphone. When you use TTSPY, you not only get access to the camera of your partner's phone but get to track and even take screenshots of their text messages, record their calls, and track their live location.
With the advent of hookup apps, it has become very easy to cheat on a partner, so, you feel that your partner is spending too much time with a friend or coworker then you need to be spying on them with the TTSPY app. Couples who want to regain each other's trust can even agree to download the Spy Phone App on each other's phone.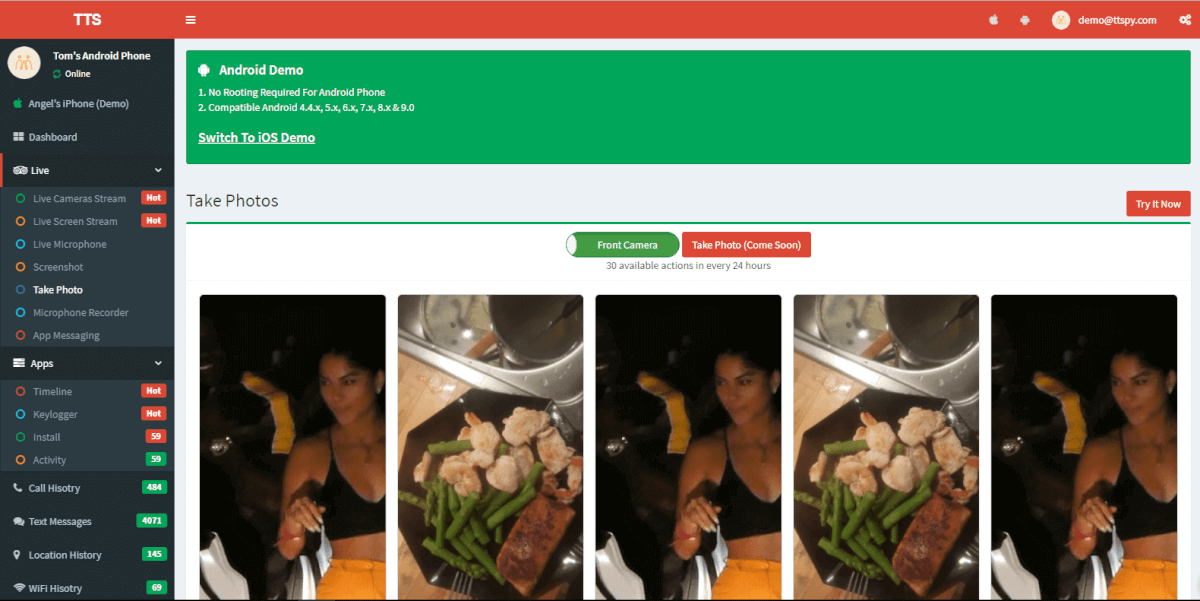 Use TTSPY to Spy on Someone's Live Phone Camera
TTSPY is the leading and most trusted spy app which secretly keeps track of anyone you want.  View the live phone camera on your phone to view what the person you are spying on is doing and where they are. The live phone camera feature is one of the most important features as it allows you to see what the person you are spying on is doing throughout the day.
The TTSPY app works perfectly on most android phones and tablets, as well as iPhone and iPad devices. The app has been designed in a way to give you (the user) entire access to your child, parent, spouse or employee's Smartphone. Get regular updates of what the person is doing on their phone. There is even a notification system which alerts you whenever they do something new. There is also an option to set the frequency of updates.
Works Non-Stop
The TTSPY app works non-stop allowing you to automatically upload the pictures onto the cloud. Access these photos from your Smartphone. There is no limit to how long you can use the TTSPY Live Spy Phone Camera App feature meaning that no matter what time of the day or night it might be, all you have to do is pick up your phone and view what the person is doing.
Is it even legal to use the TTSPY app?
One of the questions which users of the TTSPY app have is that if it is even legal to use the TTSPY Live Spy Phone Camera App which is why it important to understand that laws of states vary with regards to this which is why it is always a good idea to have consent from the person you intend to spy on.
What this actually means is that you need to get the consent from the person you intend to spy on first. However, parents or guardians of children below the age 18 are not subject to the requirement of having to get consent and can download the TTSPY on their child's Smartphone.
There is even a requirement for some companies to provide their employees with a Live Spy App to ensure that they speak with customers, colleagues or suppliers as per the guidelines of the company in order to ensure excellent customer service, low risk of any sexual harassment cases and satisfied suppliers.
The Perfect App to Live Spy Phone Camera & Much More
The TTSPY App is rather sophisticated as compared to other similar spying apps out there. Anyone can download the app through the use of a third-party app and download it on their Smartphone and the person they intend to spy on. The app is available for iPhone and Android Devices.
The App has many powerful features besides just the Live Spy Phone Camera feature such as the microphone feature, live location feature, accessibility of text messages and calls features and much more. It is the only app which has all the features an ultimate spy phone app needs.
When you use the TTSPY app, you get to view the person's phone remotely to a great extent. Features like recording and viewing live screen of the phone give you greater control over the person you are spying on. It is convenient to use the app to solve all your spying needs.
Use the TTSPY App with Ease
The user interface of the TTSPY App has been designed with the goal to give users the best experience and to ensure that they can use the app with ease. With everyone being on the go, there has always been a need for an app to keep this in mind and that is exactly what TTSPY App has done for its users.