TTSPY is an iOS app for iPhone & iPad monitoring. It is an app which is usually used to track phone with iOS software. It is only compatible with iPad and iPhone's software but there are other Android TTSPY apps for other phones and tabs. The app is specifically designed for a phone that it doesn't interfere with the other running app in the iPhone or iPad. It can be used as the parental control app on your children phone and keep them in your supervision as long as you want.
Why use a phone track app?
The internet has really exposed a lot of things on various subjects that require parental guidance. Children are trying things that are dangerous to them. Due to that, a lot of parents are concerned about their children's mental health and especially their behavior. This TTSPY app is made for parents to use on their children phone so that they know what their children are up to. With this spy app, you get to know where your kids are at any time because this app has a tracking software built in it. With that, you can know what they are texting or browsing on the internet.
The tracking software has GPS tracking ability that let you know where your children are, where they hang out, and if they go to some forbidden place. This app allows you to keep an eye on your children which is really important in this modern age. So, when they are late, or missing, you get to know where they have been spending their time. If they have been bullied from someone directly or in the form of texting or on social media, then you get to know everything because TTSPY app gives you access to their SMS and social media apps.
There is another aspect of this app which we would like to include here. This app is for tracking purpose, so besides children, you can use it in your employee's phone if they are given phone by the company and keep an eye out for them as well. It has multiple features by which you can take photos and save the evidence in case your employee is lying. Think of it as surveillance but through a phone.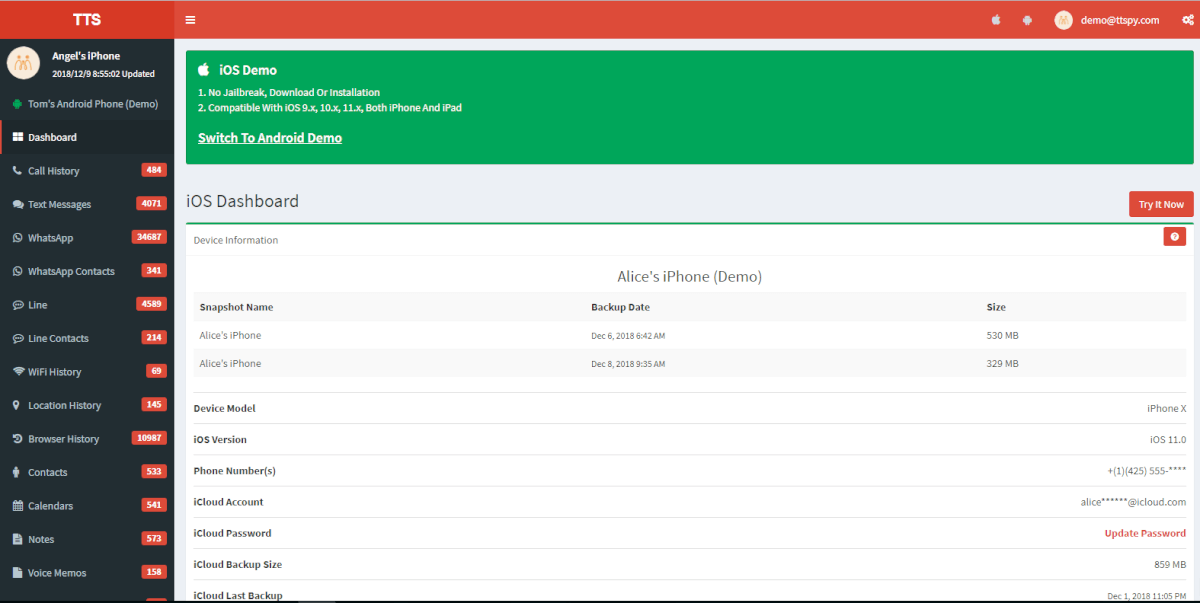 How to use it?
This TTSPY app is compatible with the newest models of iPhone including iOS 9.x, 10.x, 11.x, 12.x. It is pretty easy to use as it just requires you to have your iCloud credentials. It would not require you any longer downloads and installation that most of the other apps require. You might require a good internet connection to install this. When installed in any iOS phone, they will start working in minutes without wasting any time. Once you connect this app with the target's phone, it will start working remotely. This app will allow access to target's contacts, call records, messages, SMS apps, social media app, camera, GPS tracking, online web history, multimedia apps including, photos, videos, and audios.
There are plenty of more useful features in this TTSPY iOS app that you can use. Parents and other people have found them quite useful. We have enlisted them here. Have a look:
Voice memos: It gives you access to target's videos and audios. So, you can easily listen to their memos online.
Apps in the target's phone: Now everyone has so many apps on their phone that are hard to track but TTSPY iOS app can show you all of the apps on your target's phone.
App documents: Every app has now its own documents that are tucked away in separate folders. With this app, you have access to all the app documents, pictures, videos, and audios.
Browser history: Parents want to control their children for the betterment so it would not be bad if they are allowed to monitor the browser history on their children's phone. They can even block some website if they want to.
Contacts and call history:Some of the times, kids have this nasty habit of keeping things from you but don't worry, install this app and have access to all of their contacts and call logs.
Location history:Want to know where your kids might be after school? Just check through the TTSPY app and you will know.
SIM card changing: When you are using this app to spy on your kids you will get to know when they swap the SIMS right under your nose.
Other similar software:
There are a lot of other software like that, which can be used in other phones or tablets. Just like iOS software, there is Android software. All of these apps are for monitoring purpose, but they cannot compete for TTSPY app. There are live demos available on our website which can guide you how do you want to use it.
Why select us?
There are a few reasons why a person goes to such lengths to monitor his or her children, so there has to be some discreet app which is safe to use and doesn't harm the children in any way. Nobody wants to install a virus kind of app on his phone. So, here are a few reasons why people choose TTSPY app.
The makers of this app understand the needs of privacy and discretion that is why this app doesn't leave much traces in the target's phone.
You can save a lot of data in your iCloud account from the target's phone as evidence.
The app allows you to have access to the browser history of the target person so that you could control it.

Although you can choose to save everything in iCloud

but even if you don't, there still be a backup.
Conclusion:
With the extensive details mentioned on the website, one can say that this app is convincing for parents who have children under 18. This app has so many useful features which is why we recommend iOS users to get this app and use modern technology as a blessing.