We are in a world full of unfamiliar numbers and spam calls. We all receive a suspicious call occasionally and the first thing you think about is tracking. It is important to know the source of a call before you make any deal or agree to any requests. Identity theft is common today and can lead to significant effects. One of the ways of protecting yourself and dealing with ongoing identity theft is tracking the location and source of the call. It is the only way authorities can help to get to the perpetrators and bring them to justice.
Tracking phones is not always about theft and fraud. It can be for business purposes. If you are working in a logistics company, you should understand the importance of tracking phones. Employers in different industries can also choose to track the phones of employees for various reasons. This mostly happens on work phones; tracking personal phones in the workplace raises issues of legitimacy.
Additionally, parents can track their children's phones. It is a security measure in a world of uncertainty. You might need to monitor the activities of your teenager. It is about protecting them from a destructive company. Evidently, tracking phone location has enormous advantages both in business and social life
So how do we do it?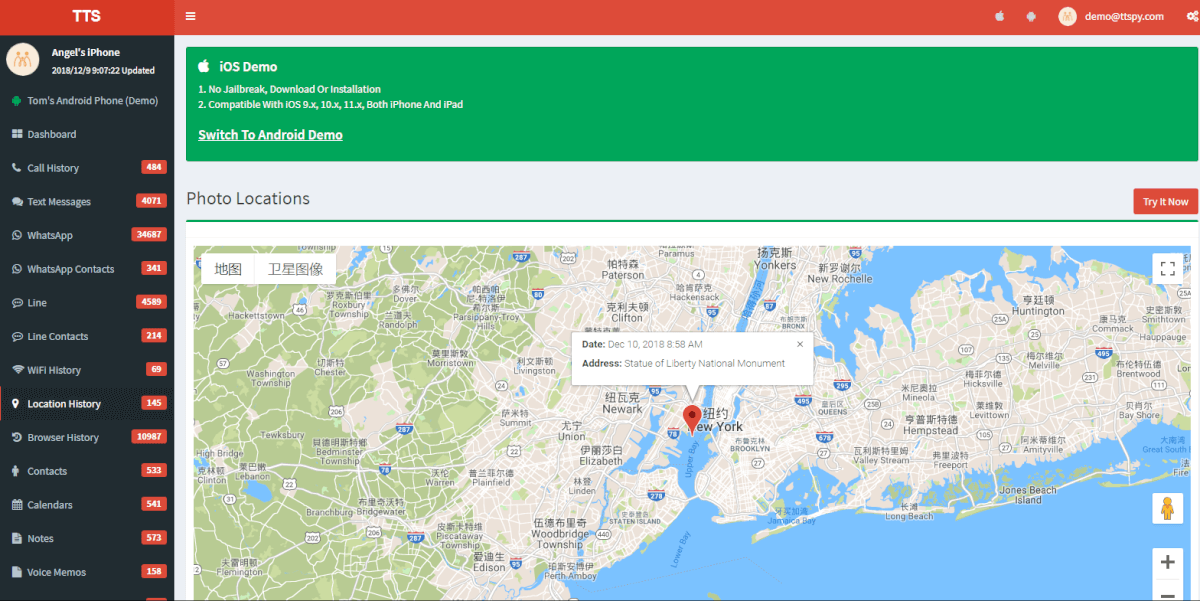 Tracking phone number
The easiest way to establish the location of a phone is through the phone number. We can narrow down a general location and ping to a specific place where the call came from. A combination of GPS and IMEI gives an accurate location. Another way of tracking phone location is through SMS or messages from social media platforms. If you are tracking an individual for monitoring; this is the best way to do it silently. The target won't notice any suspicious activity on their phone.
TTSPY is the best for tracking people you know. It is a quiet technique that doesn't interfere with the storage or processing speed of your device.
Location and source
Unlike most phone tracking applications that only give you a general location, TTSPY is specific. There are additional features that can guide you to a specific place. You can also tell the type of device. Receiving a call from an unknown caller is no longer a threat; with the software, you can define every detail concerning the source of the phone.
If it is a malicious party you can get to the hideout with the help of authorities. TTSPY can be used both for corporate and social aspects.
Tracing your own phone
Tracking phones is not only about finding the location of other people. It is not a big thing to lose a phone; whether it is stolen or you drop it while rushing, you can find it. Today, phones are part of our daily lives; we keep them the whole day, even beside us when asleep. This means that losing a phone is losing a part of you. Smartphones act as reminders for important appointments; they also store sensitive information. While phone manufacturers have integrated technological tools that help in data recovery, you will be inconvenienced for several days before you get this done.
An easier and probably faster method is tracking your phone using the phone number. With TTSPY, you can enter the phone number and run it on the database that is linked to GPS thus uncovering the phone's location. The process is fast; if it is a theft case, you might need to do this fast before the phone number or mobile operator changes. You can also sign up with TSPY for real-time updates on your phone as a mitigation technique.
Don't worry if you notice your phone is missing for several hours. You can still determine the specific location using GPS. The type of phone does not matter. If you had subscribed to the TTSPY tracking service, you will have real-time updates on any movement whenever the one in possession of the phone moves. The IMEI will easily identify the phone even when it is linked to a different phone number or across the border with a different mobile operator.
Home address
Yes! After identifying the general location of your phone, you can to details and check on a home address. The software is effective. The additional features include a link to home directories where you simply input the phone number and check on a matching addressing. Combining this function with GPS location gives you an accurate location. Depending on the location, you can view the location in real-time from online maps integrated on GPS.
The home address feature is the latest feature in phone tracking. With a phone number only, you can uncover enormous details about the location of your phone. Working backward from the phone number is an effective method, which is the main basis of TTSPY.
Timing
Effectiveness of tracking, especially for security and emergency reasons has a time factor. TTSPY is the best in this category because of its efficiency. Once you enter the phone number, the loading time is in a few seconds and your results will be posted. There are multiple features on the interface depending on your goal of tracking and preferred method; whether GPS, IMEI or use of the mobile number.
About TTSPY
You can easily drop your phone or forget it on a counter as you shop in the city. Even if it gets stolen by professionals, you are still covered by TTSPY. The software specialized in tracking phone location and phone source. It is possible to pinpoint a phone's location to the home address. It is reliable because of the real-time updates if you subscribe to the service early enough. The best way to use this service is subscribing with your phone number; in the event, you need to track your phone after a loss, the tracking requests will be processed immediately. TSPY is a reliable and convenient way of handling stolen or misplace phones. Whether it is on employees or on your kid.