If you want to spy your teenager's phone to keep them safe, you can now do it without their knowledge or suspicion. TTPSY gives you a chance to access a target device without having to install an app on it. You can now spy on the target device remotely without first connecting them physically. All the required information you need from it will be available to you.
Tracking different phones is not a new idea, but the methods are always changing. There is always a new way of doing things these days, and eavesdropping has just got a notch higher. Today, there are many ways to monitor different phones remotely. The methods have advanced through time especially in this century, as the rapid advancement of technology is sustained. Although eavesdropping has its consequences and hence the limits, the benefits are huge too. You can keep your teenagers safe by monitoring each of their moves and stay safe from a cheating spouse. In most cases, they are used to monitor employee behavior to keep a business transparent of any shady deals or lazy staff members. Spying, therefore, brings huge benefits to you.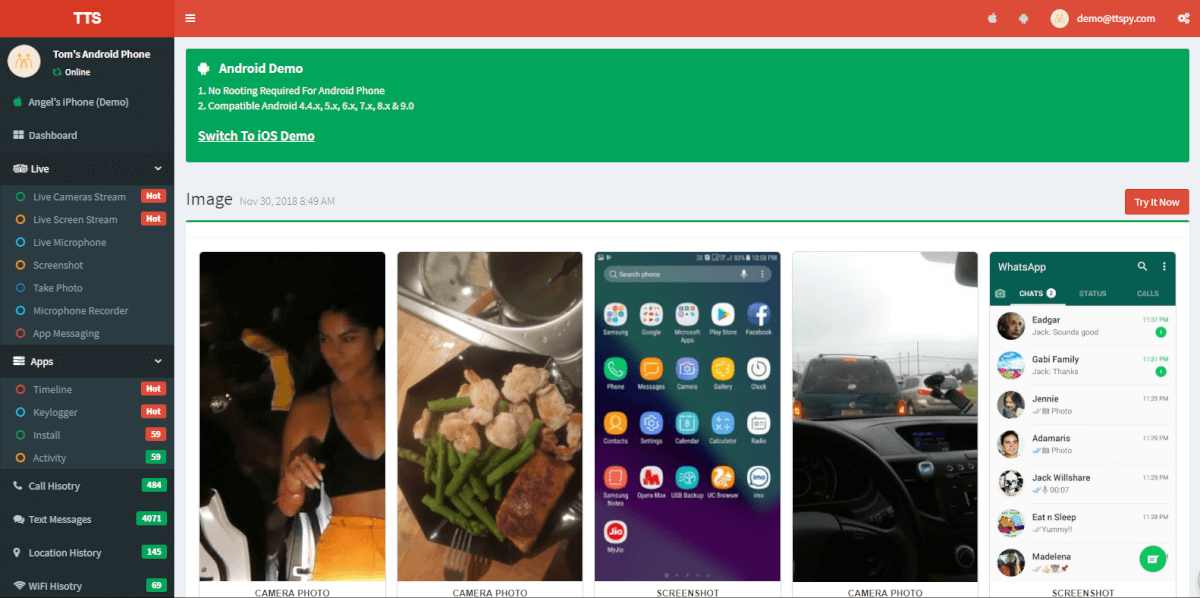 Overview
The introduction of cell phone spyware installed remotely has been existent for some time now. You have probably heard about this. It simply means you can access a target phone without actually making physical contact. If you want to catch a cheating spouse or mischievous kid, there are many easy options today. Spyware is common and has helped many people to achieve their needs. If you have not taken the opportunity to use a spy app, it is time you explored its abilities and features. There are things to consider before you install such apps.
There are two known methods of spying on a cell phone without touching it:
Secret Installation
You can send the contact an image and let them open. That is all you have to do to gain contact. The image is not ordinary but will automatically install in their phones just like you would do with a virus. This installation means the program will be available for access to their devices. Monitoring their actions sets off immediately the installation is complete. Some apps work as links. Asking the person to follow the link will cause them to install the application directly on their phone without knowing exactly what they triggered. After installation, you will be ready to view and monitor all you can.
Spy Without Software Installation
As amazing as it sounds, it is true that you can spy another phone without having to install any software in their phone. The method has worked several times and performed perfectly, but is limited to iOS devices. All you need is the Apple ID and password for the tracking app to start working. It works directly on iCloud. You need the best and most recognized tracking software so check out reviews on the official website. After registering your personal account, you can begin to work on the control panel. Finally, activate the account and device using the Apple ID and password then you can monitor the device. This is the most popular method for iOS devices today.
Using the Phone Number
The third method to access the target device will be to use their phone number. All you need to do is enter the phone number in an online spyware account to begin monitoring it. This should be the simplest method because this person remains clueless about it. After this, you will need to call that contact from your phone when it is not in use. This will be all you need to get patched secretly and start listening to them instantly without their knowledge. Their phone will notify or behave in any manner to suggest some extra activity or any form of intrusion. Remember that this method works when the phone is not in use to avoid detection.
TTSPY
If you want to constantly monitor your kid's, employee, or spouse, TTSPY offers you a great chance. The app is designed with parental monitoring in mind. As parents, there is always an urge to keep your kid safe from any trouble ranging from cyberbullying or any form of conmen. Since they spend up to 18 hours of their day on their smartphone, it is easy for them to get caught up in something new out of curiosity. As a parent, you are in a position to tell when they could be in trouble. It is not easy anymore to keep an eye on them when the real danger is in their online activity. It is, therefore, imperative, that you gain control of their online dealings to be aware of the extent of entertainment and limits you want them to follow. It is easier for you to tell when it is a trap and warn them or close it down secretly without their knowledge. Many children are caught up in things fraudulent or criminal activities eventually. They are targeted on social media and after they gain trust in the perpetrators, they begin to call and meet up. Being in control means you can stop this from happening before it advances and causes harm to your kids. Instead of waiting and hoping they are safe, it is wise to take charge and control the situation.
TTSPY, therefore, gives parents a chance to observe the child's surroundings thanks to the abundance of features. Knowing who they are with, what they are planning, where they are and what they are saying at any time is the most efficient way to protect them. If you are sure everything is safe, there is no cause for alarm. However, when you realize something is going overboard, it is only sensible to confront the issue. These features will give you peace of mind to think of other more priorities. Let TSSPY handle your child's security for you so you can worry about more important things. They are exposed to the danger of drug abuse, addiction, pedophiles, criminal gangs, and many other issues are real.