TTSPY is one of the most modernized hacking features that have been highly used in society today. Among the many various other features that it so amazingly covers, there is the contact list tracking feature that we will handle today here. This will allow you to use the app at its best and at the same time, receive satisfactory results.
You will be able to know how best to handle the app if your sincere desire is to be aware of what is going on in the contact world of your friends' phone. It should be noted that this feature does not only works for the people who tend to use this service for their irrational gains. It is also useful if the person needs to know who was called and when for proof measures. Even for a legal case.
It may look like an easy task, which it is, but the trick comes in with the different features that the app offers. It does not look like the others; therefore, this article will help guide you through it.
The process of tracking the contact list
The beauty of this app is that you will be able to see all the details that this person used when creating that contact. Many people may see this as going against the boundaries of privacy, but anyway, that is what the tracking app is all about. You get to have a timely description of what the contact list of the person you are interested in looks like at any time they are connected to the internet.
For most other apps you will need to subscribe individually for some of the services that it has to offer, but when it comes to TTSPY you will need to subscribe once, but it will cover for all the assistance that TTSPY has to offer. You should, however, keep in mind that it highly depends on the phone version you have and whether it is android or IOS.
Things to ensure when you decide to track someone's contact list
This is a process just like any other thing you would like to be done on your phone. You should, however, have to ensure that several things are already running for you to be able to access the contact list of the person you require.
You should have a working TTSPY account.
The phone you need to be tagged should be at an arm's length for you to install the app into it.
Your account has been merged with the one you would like to track.
If the app is already present, you should ensure that in the control panel, you have activated the contact list for you to be able to view.
The phone in question has to be within internet connectivity range for you to be able to receive messages for the account on that phone.
Unless it is your child, you require a legal permit to be able to practice this function; otherwise, the person should be aware of what is going on, on their phone.
Features to look out for when working with the contact list feature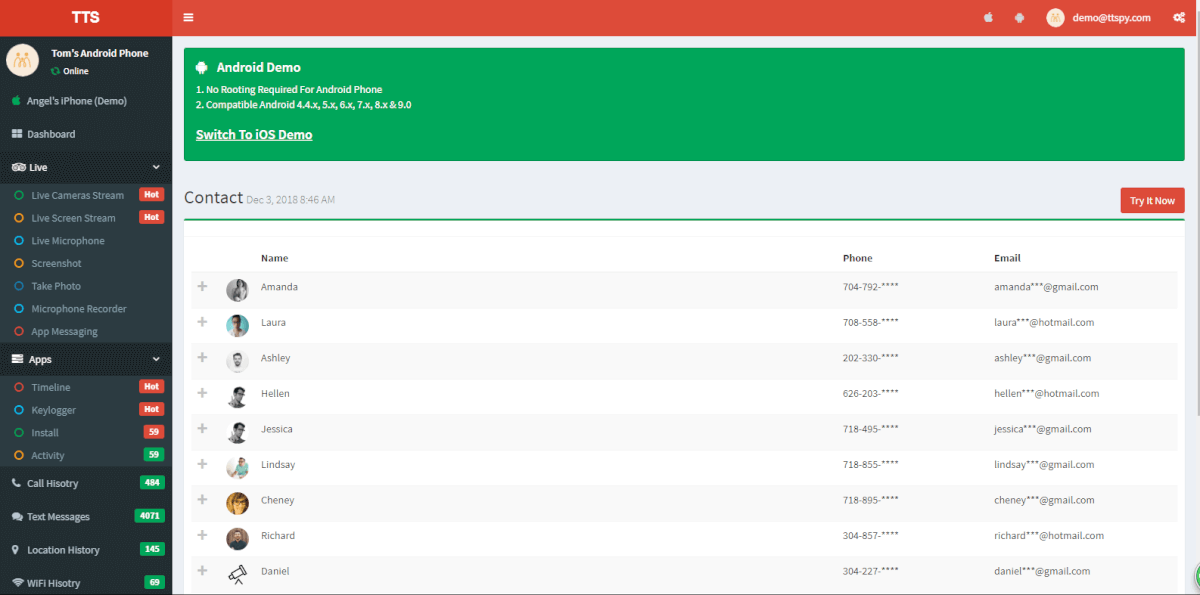 After you have logged in to the account and you have chosen the person you want to track there will be a page that will open where you will be able to see what is going on that phone. On the menu sidebar, you will find many links that you can choose. We are however in need of the contact list, therefore, you will select the contact function.
Once you select it, you will be moved to another page where you will find the following things.
The name of the contacts you are looking for.
This is the first thing you will see once you have selected that function. It will just show you a list of all the names that are on the contact of that person. Anyone who has ever existed on their phone more so during that time.
There is a '+' sign that has been attached to each of the contacts. This is the allowance that you get to add them to the surveillance list that you need. Once you have added, then you will be notified when they call or even text the one who you are tracking. This is where you find the paranoid spouses adding all the opposite sex contact on the list to know when they call or text their partners.
It is an exciting way of spying over other people, but one that is very rewarding.
When you select the contact name of the person, you would like to track. You will also get the email details of the person. Most of the contact creation lists today also have an input box where someone is expected to put in the email of the person.
With this, you can easily also use it to track the email activities that could be happening between the two people. There's also a possibility that you may get some people are having more than one email address listed to their contacts in the phone. With this, you can even know the GPS location of the person using the email address given.
 The contact profile of the people on the list also includes the person's physical address. This will give you a general outline of the place that you could find the person on the topic. It gives you the street and the town address, and in most cases, it changes even when they move to a new place.  You will then be in a position to track them if you need to though I would not advise you unless it has been legally prescribed.
Despite this being an optional choice, it is one that can be fitted on or assumed if they want to. However, most of the details when saving to the email account or Gmail account of the people it usually attached things like the website address if they have one.
Though to most possible this option does not usually sort out for you might be the type of person whose tracking needs also reaches out to their online presence. This could be an excellent booster for you.
For this app, you will be able also to know the date the contact was created. This is the day this person fitted that specific contact into their phone. It will allow you to have an exact picture of the period the two people have been knowing each other or instead conversing. One of the exciting things is that it will also inform you when that particular contact s also deleted. It, therefore, acts as a useful register of the people that the person has on their phone.
The number of times the contact has been in reach.
Apart from having all those details, the main reason for doing this tracking system is to allow the person to know the number of times they were able to talk. For each contact that you had selected, it will inform you when they call or text, including a summary of the number of times that they reach out to each other.
You can even record the conversations that they have been having for future references if need be. For example, the children of today love to have their phones. This is to keep in contact with their friends and peers. Well, this is something we are not against, but you have to keep tabs on them. This is where the app comes in. It will ensure that you know who they are talking to when they are talking to them and for how long they are talking to them.
Advantages of running a contact list track
Many people may not know this, but having a reliable way to know who your child is calling most of the time or even text help you understand how to help them if the need arises. You can then follow up on their texts messages and also call contents.
Without knowing you may come across something that your child might have been hiding for long periods without wanting to disclose. It might just be the one thing that saves them from making one of the terrible decisions that they might make.
It is also essential to know what they are texting and how they are responding to some of the things that they have to answer to. Many of the children today are either bullying or getting bullied for very many reasons. Understanding what they are talking about will help you balance them and help out before it gets too late.
Limitations of trying out the contact list tacking service
Most people who want to try out this service are either parent who is very worried about the kind of people that their children relate to. Some employers don't trust their employees. Therefore they have to continually keep tabs on what they are doing and why they are doing it. Especially when it comes to things that relate to what their organization deals with.
You can only get the service that it offers after you have linked the account that you want to track with yours for you to be able to view it on your phone. Without ensuring it, you will not be able to see not notice anything that could be happening.
The sad part is that people don't realize the effects it may have on them or the people who they are tracking on. Very many people will not look at it as tracking, but more like spying which unless it is backed up by the national government, it is a significant crossing of one's boundaries.
The fact that you have to get to the gadget of the user without having the knowledge is just a textbook way of trying to hack into their phone and silently observing what they are doing without having the guts to tell them. Despite the advantages, it may give you and for security measure also the one being tracked but honestly how ay ties has it been for good?
The background feature comes in handy here. The fact the person may not know that their phone is not being hacked in to may save you some time, but if it is not for the right purposes, you may just be getting yourself into massive problems.
The subscription service will only function when the fee payment happens on time one the period passes and the subscription has not been renewed you will not be getting the notifications that you were used to getting.
For us, at TTSPY, we have the following to give or clients. We, however, advise that if you find any other feature that you would like us to add on this app kindly get to our official link and tell us. We will highly appreciate the concern and advice.
Final word
TTSPY has one of the most exquisite and most preferred tracking apps that the mobile world has ever seen. One of its amazing features is the contact list tracker that is widely used even today. The ability to be able to see who communicates with our child or significant other, where they are coming from, different ways of getting to them, and the frequency in which they interact. Many people may view this as a form of hacking or spying, which is partly true, but it all depends on the intent for doing the action on the topic. The most exciting part is that many people are usually ready to higher PI's to offer you a service which you end up paying so much to get services that we at TTSPY can provide you with at the freedom of your phone.