The mobile Monitoring Apps are helpful in today's world, where one can no longer trust anyone; surveillance has become very important, especially for couples. If you think that your partner has behaved abnormally in the last few days/weeks or is no longer interested in you, it may be because he has found someone else. Monitoring messages has become very important these days as they tell you everything the other person plans do.
The old monitoring methods are now being replaced by mobile Monitoring Apps that can be accessed remotely. This method allows you to spy on a person's activity and find out if you are being cheated or not. Follow this article to find out how you can read messages remotely.
How SMS Tracking App Work?
To receive constant messages from your target phone, you need a strong mobile Monitoring App. A strong means high-quality mobile Monitoring App that works flawlessly without errors
An excellent mobile Monitoring App provides more than just an SMS tracking function. The app must seamlessly access all the device content, web history, and others form the target's phone. What application boasts these features? TTSPY and some others are great examples of well designed and complete mobile Monitoring Apps.
To transfer text messages from your target to your phone, you need mobile Monitoring App as we have stated above. These programs can be executed on one or both operating systems. Regardless of whether the person owns an Android phone or an iPhone, you only need to know the target device information to install an invisible compatible tracking tool. This is only done once, and the action is complete, you can now track the device and read whatever messages you like from it.
As soon as you registered the required information from your target phone, it's not visible anymore and synchronizes all the information of the said device with the setup account for reading messages purpose. The configuration procedures vary according to the software used. Once the target phone is synchronized with your phone, you can fully monitor the activities of your spouse or child: text messages, photos and even videos, where they go and what websites they visit. You also have access to the list of contacts,
Should I Also Read My Partner's Messages?
Yes, you should. A healthy relationship is indeed based on trust as we all know. However, if you feel that you need to worry, you must first trust yourself. Read the appropriate messages if you want to be sure your suspicions are not unfounded.
Pay close attention to your spouse's new attitude. When your partner acts like he or she has something to hide from you, they begin a conversation as regards the stuff, which indeed bothers them. And if perhaps your wife or husband avoid being honest with you and you know clearly, you own every right to read through your target messages out there. The one way to put off these suspicious thoughts would be to monitor or check ones target phone messages sometimes.
You may avoid it. Not many people like the fact that someone invades their private text messages. If you are individual of such class, never sacrifice or waste your precious time for the undeserving couple. Many people find it hard to support their unfair partner. They question their appearance, their character, and their sexuality. It could lead to poor health; thus, you may want to avoid it.
Iѕ It Possible to Read Someone's Text Messages Without Their Phone?
While employing modern mobile Monitoring App, going close to your target mobile phone to read messages isn't needful. The modern mobile Monitoring applications work remotely and correctly too. What does that mean? With mobile Monitoring App, you can easily read text messages from people without their phones.
After the installation of every necessary data, the mobile Monitoring App begins to monitor the target messages. The application works in invisible mode so that the user can barely recognize it, then, every message on such a phone is systematically copied to your phone.
How To See Messages Without App Installed On The Target Device?
Yes! You could read through your spouse or child messages even without having their device with the help of the monitoring app. This monitoring software hacks the target device and sends the activity report to your device. There are several online hacking or monitoring software that allows you to read text messages without your phone.
But all lack one or more features that TTSPY owns. TTSPY is an all-in-one phone surveillance and spy tool; it's designed to provide an effective and well-organized way to track your loved one's activities via mobile phone.
As regards monitoring a person's activity on your phone remotely, am yet to see better software than TTSPY. It is indeed the best mobile monitoring app for iOS as well as Android devices. And you do not need any former knowledge to employ TTSPY, even beginners and amateurs can easily use TTSPY.
You can easily read SMS messages without your phone using TTSPY. You can also view call logs, browsing history, locations, photos and videos, social networks, and other details of the target device.
The monitoring app was developed for child protection reasons, but it can be used for multiple purposes. This kind of monitoring app is also used by couples to persecute their partners and to see if they are cheated. In addition to reading sent аnd rесеіvеd text messages, you can also view call logs that include sender and recipient details, and the time they were received or sent.
The Monitoring App Features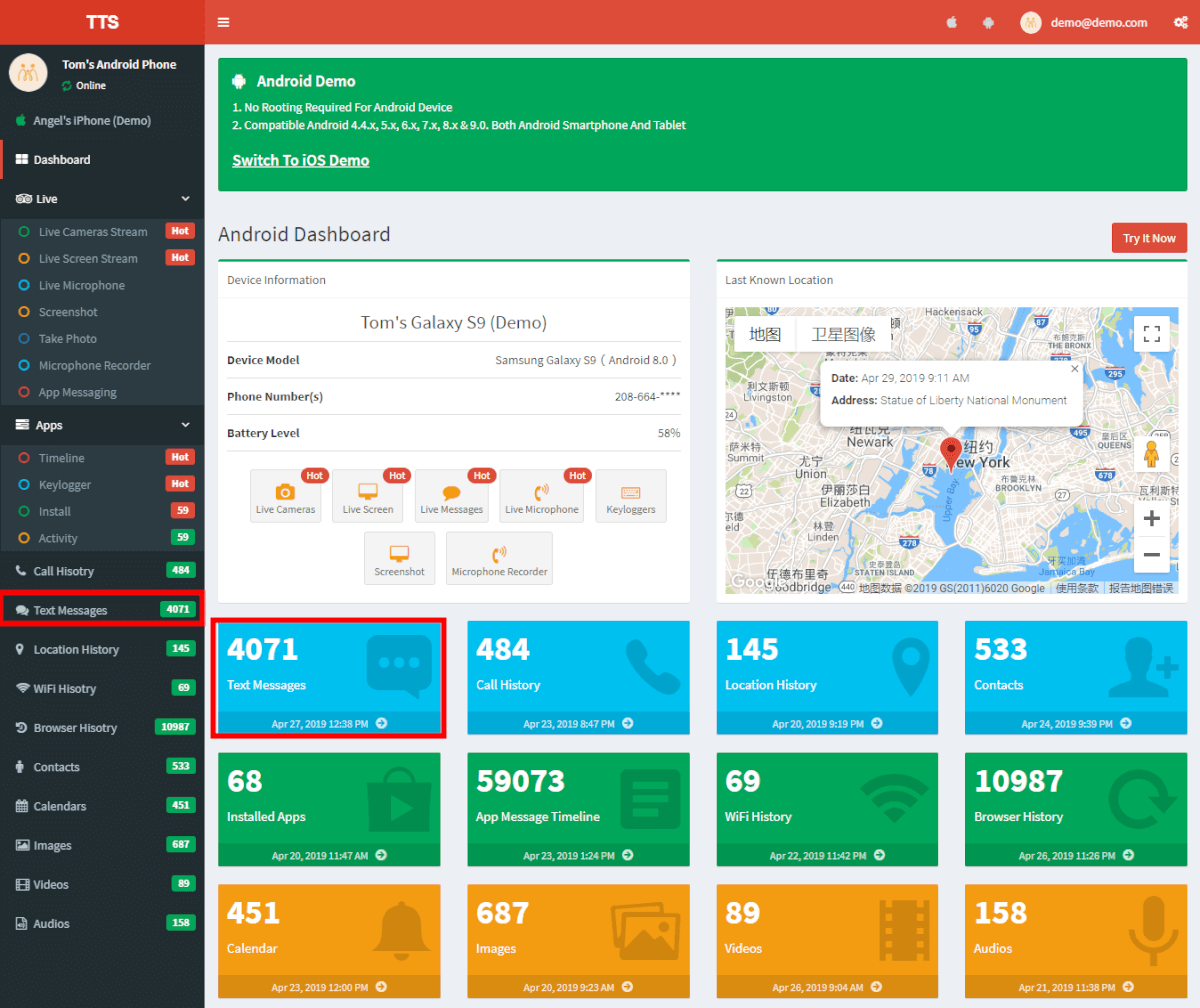 Monitor SMS Messages – This is one of the monitoring app's key monitoring features that let you read messages on the target device. The mobile Monitoring App furthermore allows you view the individual's name that received as well as sent the message on your target device, including some other details, for instance, time, date and year the message was sent.
View Call Logs section – Viewing someone's call logs is quite important if you truly want to know who this person is contacting. For instance, TTSPY allows monitoring of caller lists of your target as well as all related data will be delivered to you.
Time and Access Limits – monitoring app such as TTSPY allows you to set restrictions on app and Internet usage on the target device. You can also block apps and even the Internet on the target device, blocking access to certain apps for a certain amount of time.
Social Network History-Social networks are an important part of Internet usage today. Therefore, if maybe you want to follow someone, tracking the individual social networks akin to Instagram, Facebook, Snapchat, phone SMS, WhatsApp, and so on, is very essential. TTSPY makes this possible, so you know exactly what your target object does on social networks.
View calendars and notes – A good monitoring app also provides the ability to monitor calendars and notes from the Android or iOS target device. This will tell you what the person you are monitoring is planning to do in the next few days.
Location History – Location Monitoring is vital if perhaps you want to monitor a person's whereabouts out there. With monitoring app akin to TTSPY you can find out the location of a person.
How to Get It Started?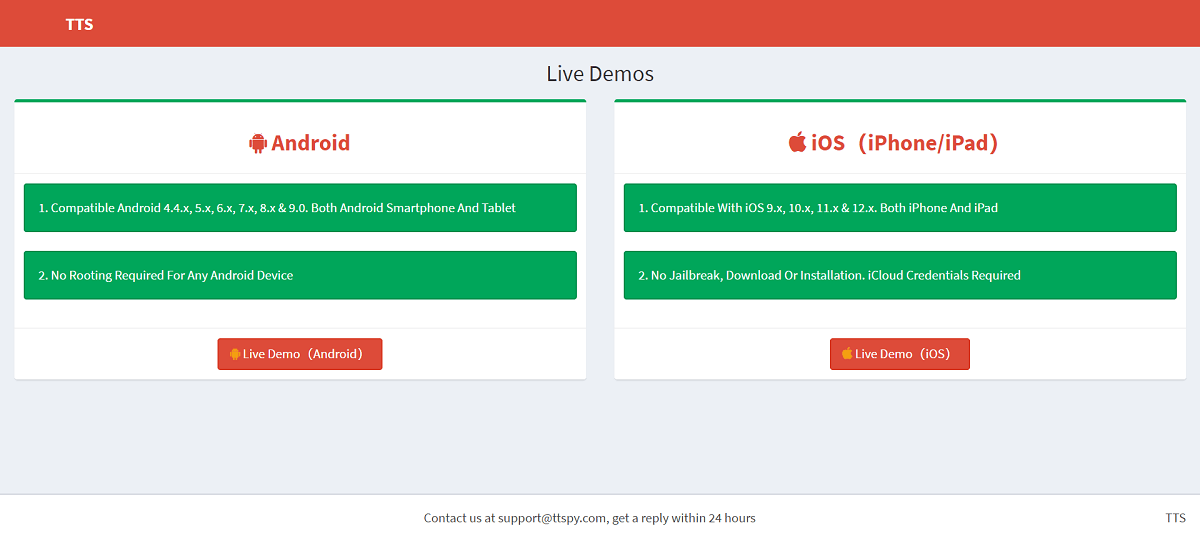 TTSPY is the best monitoring tool for monitoring Android and iOS devices. Follow these steps to learn more about reading messages remotely without the phone using monitoring app –
Step 1: Sign up for a TTSPY account and click Try It Now.
Step 2: Enter your e-mail address and password and then click on Register.
Step 3: You need to choose the operating system platform on your device, ie Android or iOS.
Step 4: Set up TTSPY, or any other monitoring apps of your desire according to the operating system of the target device!
For Android
Download the TTSPY Mobile monitoring app to the target device. Install and open TTSPY and sign in with your TTSPY account. Allow permissions on the app and click on Start monitoring. Wait for the spy icon to disappear.
For iPhone
Step 1: Enter the target person's iCloud ID and password during the setup process. Check the iCloud ID and you can start monitoring.
Step 2: Now go to your device and go directly to the TTSPY interface.
Step 3: Click on the tab News in the left area and you can read the messages of the target person.
If your partner behaves suspicious, you have to be careful. People are looking for a way to read someone's messages to avoid such situations. With a mobile Monitoring App, such as TTSPY you can read text messages from people without their phone. You will be able to find out if the other person is cheating on you or not.
Conclusion
Using a mobile Monitoring App is easy, and you do not need any technical knowledge. You can even sign up today for a free TTSPY account through their official website. You will not be disappointed by this mobile Monitoring App features – guaranteed!
Please note, the information and the Apps presented here are for you, that is if you will use them lawfully. Kindly follow the terms of use and end-user license agreement before trying mobile Monitoring App because the users bear the consequences of improper use.