Being in a relationship with someone is one of the most precious things which someone can ever experience. However, being cheated by the partner is a thing which no one wants to deal with. Most interestingly it is not always a boy who dumps you or cheats you; a girl can also do this. Therefore, if you are suspecting that your girlfriend is no more loyal to you or she is doing something wrong behind you then this is the time to figure out the things in the best possible way. It is because you deserve to have a stress-free and peaceful life. So, here are we have brought some important signs which will let you figure out whether your girlfriend is cheating on you or not. Even we also have an amazing solution for how to spy on cheating girlfriend.
10 Signs your girlfriend is cheating on you
Here are the signs which can tell you that your girlfriend might be cheating on you:
1. She gets busier with her mobile phone
If you are noticing that your girlfriend is spending more time with her mobile phone, then it is normal to ask her why and with whom she is interacting with. If she gets mad at your questioning or touching her mobile then you must think about it.
2. She is not sharing her passwords with you
Although privacy is important and partners should respect the privacy of each other but it can be used to challenge the loyalty of your partner at some time. You can ask the password of her mobile or social media account. It would be quite normal if she gets upset. But if there is nothing to be worried about then she will not hide anything from you.
3. She is oddly hanging out more with her friends
In these days she is not making an effort to go out with you or meet you but she is always having plans to hang out with her friends. Even the friends are those you have never met. So, this is the time to make a check on her. It is because this can be the only reason to meet someone else or maybe she is really busy with her friends.
4. She is becoming short-tempered with you
If your girlfriend has found someone else then she will surely find the reasons to kick you out of her life. However, it will be hard for her to know how to do this and resultantly, she will become impatient and will get mad at you with ease. However before judging the situation in a negative way, it is important for you to see it is not because of her work pressure, responsibilities or your faults then go to make a decision.
5. Sudden changings in her schedules
If you are feeling a sudden yet odd change in her work routine or priorities. Make sure whether it is a real change or there is something which you are unaware of. She may have found someone else. And now she is not having the same feelings for you. Try to notice the sign early; otherwise, it will be too late.
6. She is asking to give her space
If your girlfriend is asking to cool off but you are not apparently seeing any problem which can shake your relationship then she is hiding something from you. She is probably having some personal issue which may require some peace. Have a talk with her and try to calm her. However, after a sincere talk if she is still at the same point then your hunch can be right.
7. She is accumulating clothes at higher rates than normal
If your girlfriend is in the mood to makeover and tears through the malls to find the expensive stuff for her, then this can be a danger sign for your relationship. If she has suddenly taken hours to get ready when she has to go out then think twice.
8. She is overly concerned about the whereabouts of you
It may seem like she is more concerned and interested in you but actually, it is not the truth. It is clearly something else which she does not want to tell you. Be sure to take this into account because she can be more concerned about you to figure out when to meet that mystery man.
9. She is not jealous anymore
Girls naturally get jealous because they always want to be your only priority. They want their partner's whole attention. They clearly never like it when you talk to other girls sweetly. Now, if you have any doubt, then try to be too friendly with any other girl and see your girlfriend's reaction. If it seems like she doesn't care about it, then she is genuinely not afraid of losing you.
10. She is making excuses not to hang out with you
Girls are always demanding attention and time but if your girl is posing too much busy or she is not having time for you. If you are asking for hanging out then she always has something to be busy with then this is a clear sign that the girl is no more yours. Even if you manage to meet her at her place and tell her and in return, she is telling you that she is out of her place then there is clearly something wrong in your relationship.
How to Spy on a cheating girlfriend?
The very first thing which you should do is talk to your girlfriend to sort out the things in a positive way. If you are not getting any clue then spying on your girlfriend can be the only opportunity which you can do. TTSPY is one of the best spy mobile applications which will help you to know everything about your girlfriend on her mobile phone. It is one of the most powerful cell phone trackers which will help you to keep an eye on your girlfriend's activities.
Features to help you catch a cheating girlfriend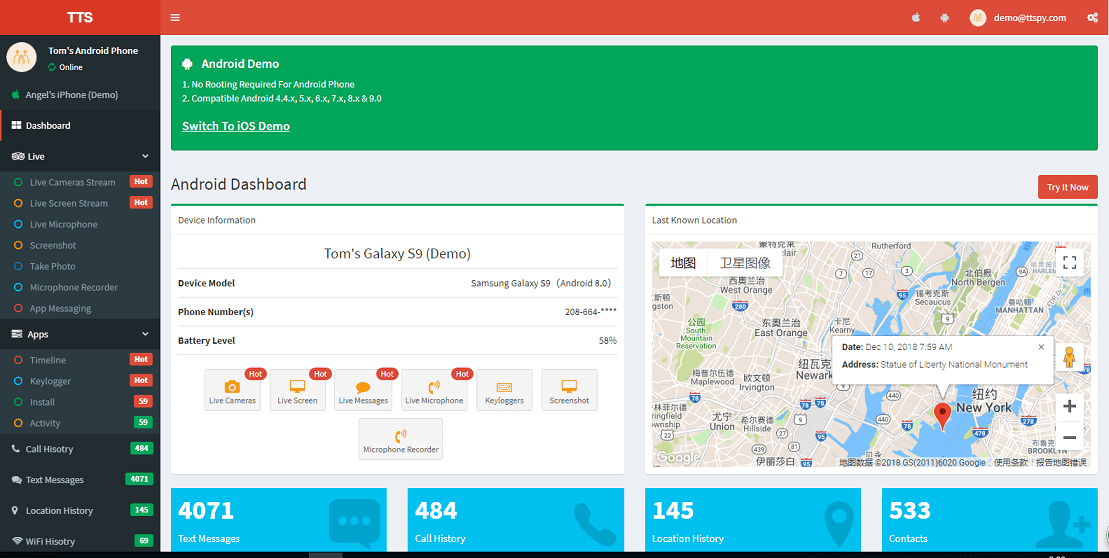 Here are some of the best features of TTSPY which can help you to spy on your girlfriend's mobile to know what's cooking in her mind:
Call log: Call log is a feature in TTSPY which will help you to analyze the call log of your girlfriend's mobile phone. You can view her call history and contact details with ease. This will let you have a better idea with whom she is interacting more these days.
Live Camera: You can activate the camera of your girlfriend's mobile phone and microphone to view and record the surrounding of your target device in the best possible way. This will help you to know with whom she is meeting these days and which type of places she is visiting or who are the people she is being with. Even more, with microphone's recording; you can hear their live conversations too with ease.
Location: to get a better idea about the whereabouts of your girlfriend you can easily get help from this feature to track her location properly.
Tex Message: you can even spy on her message box too and can see with whom she is having conversations these days.
Live Screen: this is one of the most amazing features which will let you catch live monitoring of your girlfriend's screen. This will help you to experience real-time screen monitoring.
IM message: as there are multiple messages applications on mobile phones. Luckily, TTSPY is offering the best opportunity for you to monitor entire messages which are being delivered or received there too.
All of these features are surely going to be more than amazing to monitor someone's activities in the best possible way.
TTSPY compatibility information
This is a classic application which contains a variety of compatible options. This application can work perfectly on both iOS and Android devices. Even more, you can use these on your tablets and iPads too and can enjoy the amazing benefits of it.
Common questions
Do I have to install TTSPY on my own device too?
Well, there is no need to install it on your device too. To experience its benefits, you just have to install it on your girlfriend's mobile phone.
Will the application stays hidden on the target device?
Yes, the application will be invisible on the device of your girlfriend and she will never be able to know that someone is tracking her device. You will easily be able to experience safe monitoring in the best possible way.
Conclusion
Either you are doubtful about your girlfriend or just wanted to have an eye on her whereabouts you can always get help from TTSPY application. It is one the best mobile phone tracking applications which you must consider to spy on cheating girlfriend. It will help you to monitor her messages, calls, social media activities and much more with just a few clicks. TTSPY is covering all of the necessary features which can be necessary to spy on a cheating girlfriend. It comes with the easiest interface. It makes the application a perfect option to use for you.