In today's world, there are several reasons why a person wants to monitor someone's phone without them know. With this modern-day technology, you don't need anything else but a monitoring app from a reputed company like TTSPY. Thanks to their top-notch quality, people can now monitor their family and friends through TTSPY monitoring apps.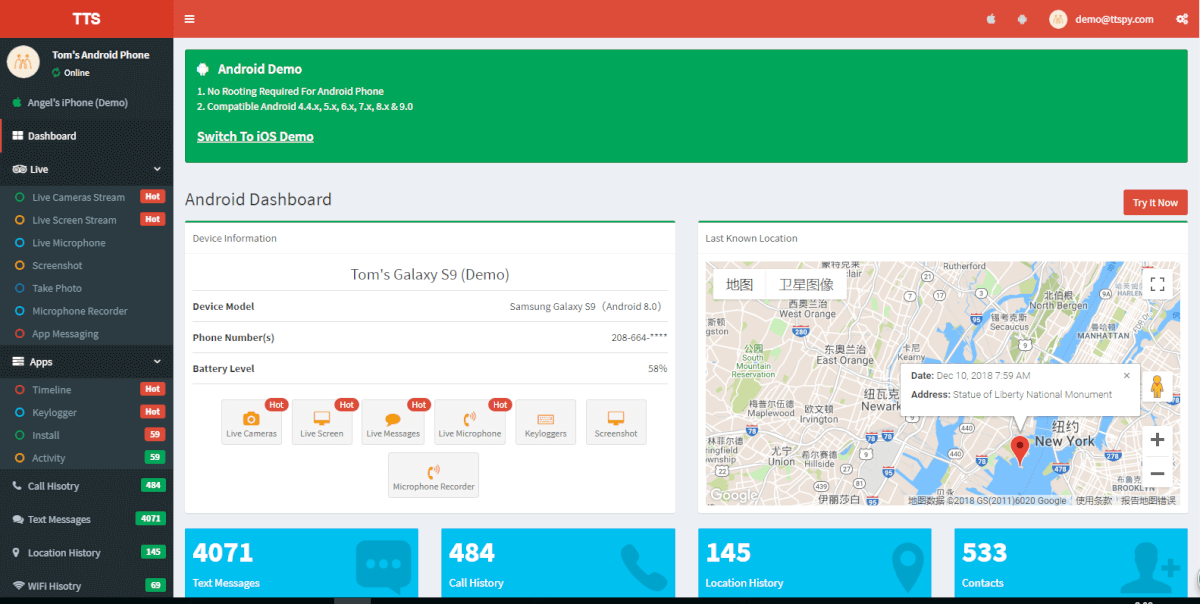 Benefits of using TTSPY
In this era, everyone is using a smartphone or at least have a social media account. That makes it easy to trace their activities through a TTSPY phone monitoring app. TTSPY monitoring app is made so that it would be compatible with any Android or iOS phone or device. All of their apps are legal when it comes to monitoring children and monitoring employee but nothing more than that. But first, here are a few reasons why a person would want to monitor someone else's phone without them knowing.
Child protection: A lot of parents are concerned about the whereabouts and activities of their children. Children could be in bad company, browsing God knows what, or be a victim of bullying. But a parent would want their kids to be the right track of knowing what is good and what is bad. For that, they require a monitoring app like TTSPY so that they can keep an eye out for them.
Workplace necessity: Being the boss isn't an easy job and sometimes you have to make decisions that are good for the workplace. So, bosses can install monitoring apps in their employees' phone and this way they get to know who spent how much time on social media while wasting the company's resources. A TTSPY phone monitoring app could be their best bet.
Relationship complications: Relationships aren't easy for anyone. If your partner or spouse is suspected of cheating then there is nothing better than to find it out yourself. Use TTSPY monitoring apps on your partner's phone and have access to all the things including photos, call logs, and social media.
These are some of the main reasons why people need monitoring apps.
How to use TTSPY?
Monitoring apps don't require you to do any crash course and other things. It is simple and easy to use. Just basic knowledge to use the internet and knowhow of installing an app. No one can go out pointing fingers at someone if he or she has done something wrong without evident proof that is why TTSPY monitoring apps allow you to have evidence. You need to ask people around because you can have the proof in real through a phone monitoring app. Here, we have divided the process of using a TTSPY monitoring app on your target's phone.
The first step is to determine whether the app is compatible with Android and iOS phone devices. Fortunately, all TTSPY monitoring apps are compatible with Android and iOS technologies. You must have a good internet connection.
The second step is to download it in your phone and install it. It won't require you to download its many documents and updates, but it will be quick.
Once you are done with the installation, now use your iCloud credentials to use it. It will be up and running in just a few minutes.
Connect it to the target's phone and put it on stealth mode. Now, it won't be visible to the owner of the phone.   
It won't interrupt the other running apps on your or your target's phone.
Once you have target phone access, now you can see target's contacts, call records, messages, social media app, online web history, SMS apps, camera, GPS tracking, and multimedia apps including, audios, photos, and videos.
Other phone monitoring software
TTSPY has been making apps for all sorts of devices. They have been making a monitoring app that can satisfy the above-mentioned needs of people. TTSPY phone monitoring app is not the only one that can be used in your phone but there are others with a little difference that can be installed on your phone. These are different in terms of technology and compatibility. Some apps are for close area range while some have remote access to their target's phone. Some of them are premium and they are a little bit costly than the average TTSPY monitoring app. They come with multiple features that allow it to be functional as per your requirement. All of these apps are for sole monitoring purposes; you can monitor your family, kids, or employees when required. You don't have to listen to their talks on audio mode but if it is needed then you can do it.
Why TTPSY is the best?
There are plenty of Android and iOS phone monitoring apps, but TTSPY is recognized as the perfect remotely phone monitoring app for Android and iPhone. All of its useful features make it a valuable monitoring app. Some of its salient features are listed below.
Compatible to Android & iOS Phones: One of the best things about this app is that it can be installed and downloaded in any Android or iOS phone.
Location history: Want to know the whereabouts of your kids all day long? Could he or she be in the stoner den? Or at home studying? Just check through the TTSPY app and you will know.
Other Apps on the target's phone: Kids use different social media apps in their phones but TTSPY monitoring app can show you all of the apps on your kid's phone. You will be able to know what they talk about and how kids feel.
Browser history: We know that parents want to control their kids' exposure to the internet in order to avoid bad things. Simply use TTSPY phone monitoring app and control their internet exposure.
Visit the TTSPY website, there you can find different apps and software. Choose the one which works for you. Every app has its own demo, check out their live demos for further guidance.