Snapchat is one of the most popular app having over 100 million active users all around the world. According to Hootsuite, snap-chatters watch almost 10 billion videos per day. These statistics show the popularity of this app.
It is very important for parents to keep an eye on their kid's activities on Snapchat. Because the privacy feature of this app allows them to share any type of content. The content might not suitable for their mental health. That can also hamper their psychology in the future as well.
Misuse of Snapchat can lead your children, especially teenagers, into serious trouble. So it is crucial for concerned parents to protect their children from wrong situations. The parents can monitor Snapchat and chat messages using different spying apps.
This article guides you about the top 6 ways to spy on Snapchat's accounts and chat messages. Let's get started…
Part 1: TTSPY App – The Most recommended app to spy on Snapchat
TTSPY is the most robust and effective app to monitor Snapchat accounts and chats. This app works in stealth mode i.e. invisible mode. So it is impossible to detect this app.
Monitoring only Snapchat is not enough to secure your children. Because many other apps come with plenty of communication features such as video callings, audio and text messages. So it is crucial to monitor all instant messaging apps to monitor your kids' activities.
Thanks to the TTSPY app. It helps you to spy on not only Snapchat but also all major instant messaging apps. The TTSPY app can monitor WhatsApp, Facebook, and other apps.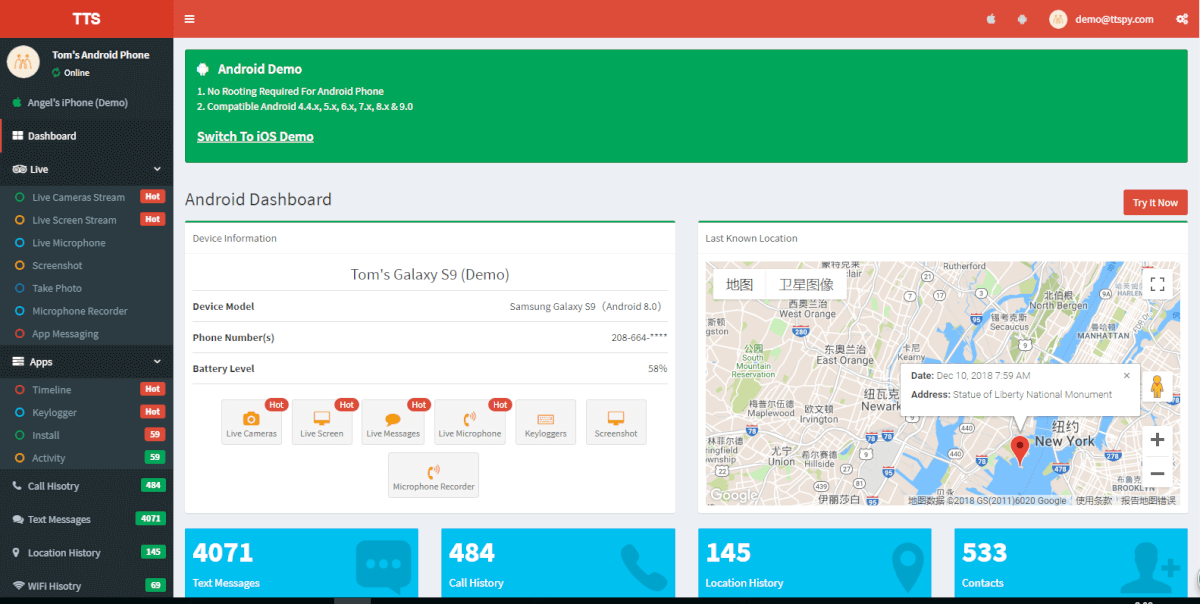 Top Features of TTSPY
Here are some remarkable features of TTSPY app:
Live Cameras Stream: The application offers live front and rear cameras stream feature. You can turn on and off cameras to know what's happening in the surroundings.
Live Screen Stream: Using this feature, you can check what's going on the screen. You can further take screenshots for evidence.
Live Microphone: This feature allows you to turn the microphone on and off. So you can listen to the live conversation of your children or girlfriend.
Microphone Recorder: If you are busy and can't listen to the live conversation, you can use this feature to record the conversation. After getting free, you can listen to the entire conversation.
Key Logger: These features maintain the record of each pressed key by the user. Most people use this feature for hacking purposes. Because when the user enters the username and password for a particular application, this feature records the pressed-key pattern.
Take Photo: This feature helps you to take photos using front and rear cameras. So you can know about the exact situation using this feature.
Getting Started With TTSPY
TTSPY is an advanced but very simple to use the app. You don't need to have any technical skill to use this application. Follow the steps below for getting started with TTSPY:
Step 1: Buy a Copy of TTSPY
First and foremost, you need to buy a subscription to TTSPY. You can visit the official site for a detailed pricing plan. The application is not that expensive. For subscription, all you need to have an email address.
Step 2: Installation
When you purchase a copy of TTSPY, the TTSPY team sends you the complete installation instructions via an email. The instruction is straightforward and easy to follow. Follow them to install the app.
Step 3: Read Snapchat and Other Chat Messages
After a successful installation, the app starts working. It uploads all information on a remote site. So take an internet-ready device. You can log in there and excess all the information.
How to Read Snapchat and Other Chat messages Using TTSPY?
Many applications with complex functionalities don't have most often an intuitive user interface. However, the TTSPY has a well-organized user interface. Everything is as clear as crystal. Follow the steps below to read Snapchat and other chat messages:
Take an internet-ready device and sign in your TTSPY account.
The app will take you to a user-friendly interface.
In the left menu, you will see a Text Messages option. Click that. You will see a list of all conversation threads. Click any of the threads to read the whole conversation.
If you want to check all installed applications, click the Install option in the left menu. You will see a list of all installed apps with a total number of messages.
Check for Snapchat. Click and read the entire conversation.
You can click on the App Messaging feature to read the real-time conversation from all applications.
Part 2: Some alternative apps to spy on Snapchat
Here are some other useful apps you can consider to spy on Snapchat's accounts and chat messages:
1. Spyera Snapchat Spy App
You can use this app to check all the Snapchat activities of your children. This application is the complete spying app. So it contains many useful monitoring features and works in invisible mode. It facilitates you in spying different social media apps such as Facebook, WhatsApp, etc.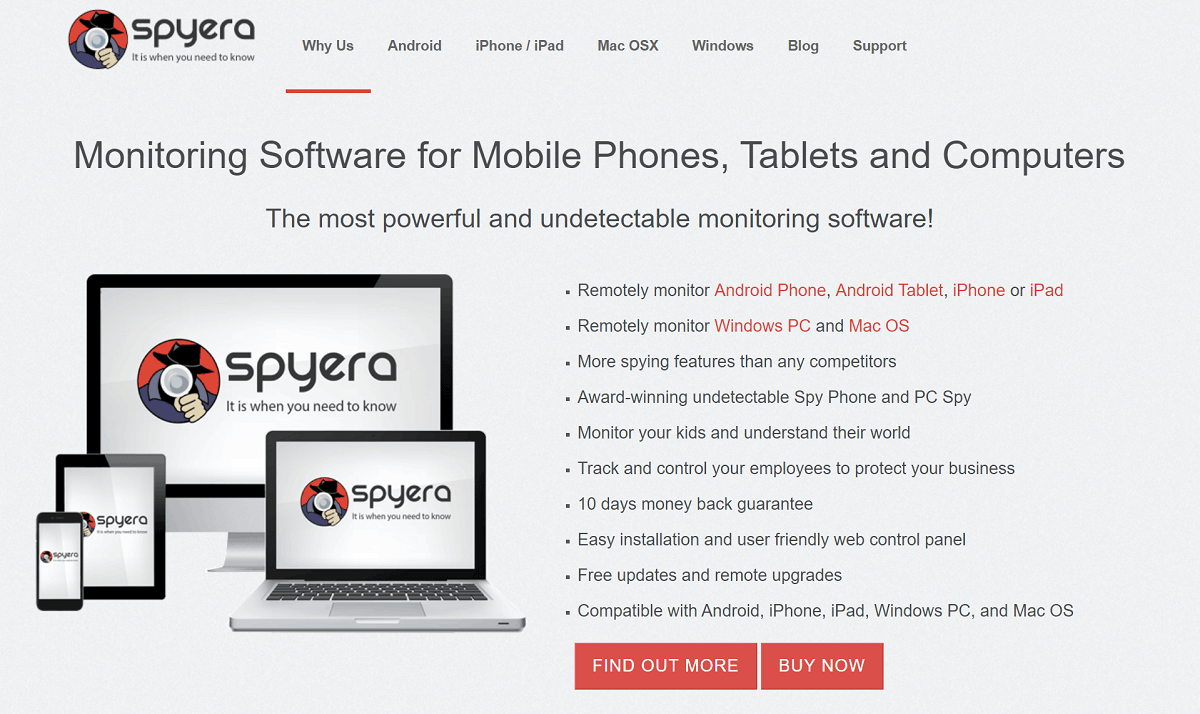 In addition, you can also monitor all incoming and outgoing phone calls, SMS and the complete history of handout messages. The application also comes with many other useful features such as location monitoring.
Pros:
This app has a very user-friendly interface.
There is no need for technical skills to use this application.
It gives you control over your children's phones remotely.
It is compatible with Android, Windows, iPhones.
Cons:
You can't block particular keywords and websites using this app remotely.
The refund policy is not clear.
2. The Truth Spy
It is another good option to track the Snapchat and text activities of your kids. You can spy videos, texts, and photos that your children share on Snapchat using this app. This app contains a very intuitive user interface.
This application gives you a little bit of control over the targeted cellphone. For example, you can control all the internet activities and multimedia files. Besides, this app allows you to restrict the usage of the internet. You can also set alerts for the particular actions or keyword of your kids.
Pros:
It is compatible with multiple platforms.
You can track any phone calls using this app.
This application is available at an affordable cost.
Cons:
You can face a little bit problem during call recording.
It doesn't provide live streaming features like TTSPY.
3. Phone Spy
This is one of the finest Snapchat and chats message monitoring apps. This app monitors all activities of your kids on Snapchat. It tracks all photos, videos, and texting of your kids on messaging apps.
In addition, this app allows you to capture photos of the surroundings of the target. You can control all activities going on the target's mobile phone using the dashboard of the app. This app allows you to scrutinize the history of your children's or employees' browsers.
Pros:
This app comes with a unique stealth camera feature.
It can monitor almost all social media platforms including Snapchat.
The Phone Spy comes with a user-friendly interface.
Cons:
It doesn't provide proper call logs information.
The price is quite high as compared to other spying apps.
4. XNSPY Snapchat hack app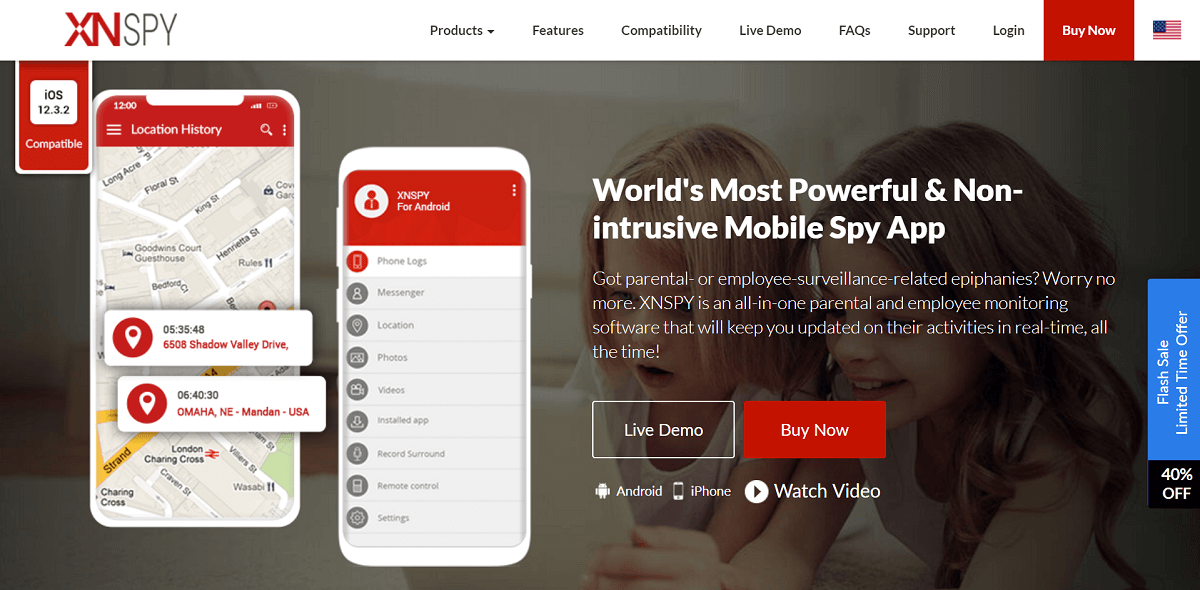 If you are looking for the complete spying app, XNSPY can be one of the finest options. It provides all spying features including Snapchat and chats messages tracking. You can monitor all types of Snapchat activities of your kids using this app.
In addition, you can check all call logs, text messages, and Wi-Fi history. Further, you will get access to instant messaging apps, and multimedia. It also helps you to track the location of your kids. Above all, you can maintain the backup of all activities when users delete text messages or media files.
Pros:
This app offers offline tracking capability.
It has a very user-friendly interface to interact with.
This application is available at an affordable price.
Cons:
This app doesn't support desktop monitoring.
You have one license for only one device.
5. PhoneSherif
This application is not a complete spying app. Because users will get a notification when you install it on their phones. You can tell the importance of this app to your children. Then, they will let you install this app on their phone. It can be a great way to win their trust.
This app helps you to monitor the Snapchat whereabouts of your children. You can also check the complete browsing history of your kids. It also helps you to monitor text messages, call logs and Wi-Fi history. Further, you can track the location of your children.
Pros:
This app helps you to factory-reset the target device.
It allows you to manage more than one device.
Its intuitive user interface makes it easy to use the app.
Cons:
No live customer support is available for this app.
It doesn't support social media monitoring.
Final Words
Concerned parents must monitor the activities of their children. Because online resources can lead them to the wrong path. Further, social media platforms contain all types of people. So wrong people can contact them and guide them to the illegal activities.
In this situation, spying apps are extremely handy. They can prevent you and your children from severe circumstances. You have learned about 6 spying app. These apps vary in features and price. You can go with any of the aforementioned apps.
The security of your kids is extremely important. So we suggest you go with a fully-featured app. The TTSPY app is our recommendation. Because it contains all spying features at an affordable price.