If you're a concerned parent who is looking for a parental control application that will help you safely monitor your loved ones easily, and without issue, there is an application on the market called Phonty. Whether you're a parent or a school teacher who doesn't want their students to do something stupid, Phonty is designed to help you do whatever it is you need a parental control app for.
Why we need Phonty?
Phonty is a very unique parental control app. Available for both iOS and Android, Phonty dubs itself as a mobile phone monitoring software instead of a parental control application. Developed by Phonty studios, Phonty is quite a useful application. You can use this application for various purposes, but most of these features are pretty obvious right from the start.
Features of Phonty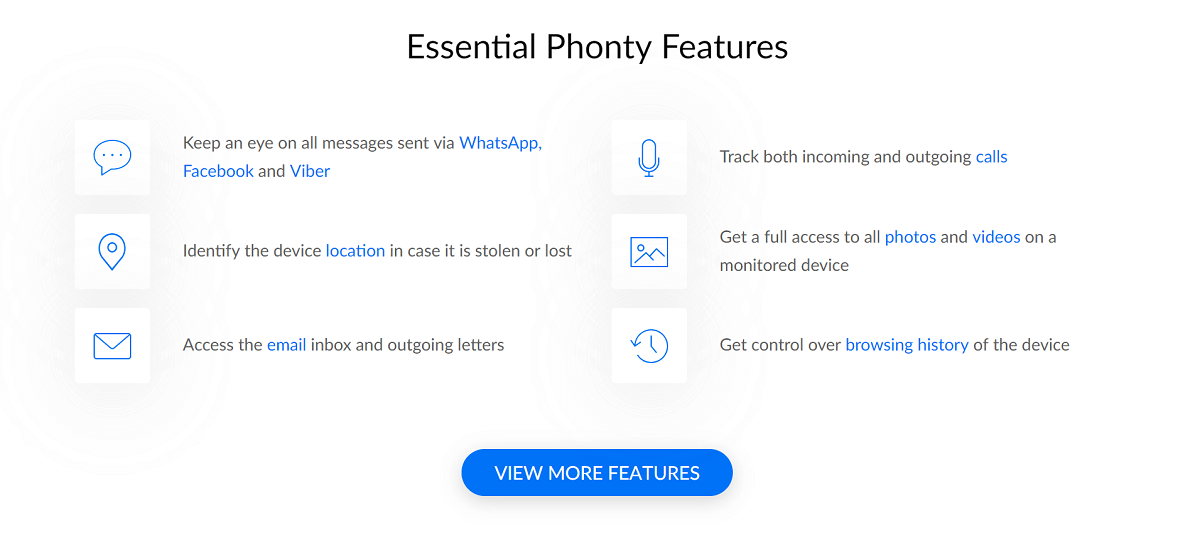 Without further ado, let us begin a guide on the features that you can take advantage of while using Phonty.
Premium Application
Phonty is an extremely premium application, with a monthly based subscription plan. Here are the several packages available for Phonty:
Premium – For $64.99 a month, you get all the features the Phonty application has to offer. There are no restrictions on what you cannot do with the app, as long as it provides these features. But if you go for an annual subscription, the price reduces to $16.24 per month. This has the best value for money.
Basic – The most basic package that offers only the base features like SMS, Call, GPS monitoring is called Basic. You can buy it for a $29.99 monthly subscription. But if you go for a 12-month subscription, you can get this package for less than $9 a month.
Bundle – This is the most useful package, in the very long run, or if you're trying to buy for a company. You get lifetime access to all the Premium features of the application for as high as $176 per device. Do note that lifetime means the lifetime of the company, not your lifetime. As long as the company doesn't go down, you'll have access to this application's Premium services. Bundles come in 3,5,7 and 10 devices per package.
Check messages
With all packages of Phonty, you can check all kinds of messages on your child device, right from your dashboard. Here are some of the applications that you can check the messages from:
| | | | |
| --- | --- | --- | --- |
| Service | Basic | Premium | Bundle |
| SMS | Yes | Yes | Yes |
| Emails | Yes | Yes | Yes |
| Voice Memos | Yes | Yes | Yes |
| Snapchat | No | Yes | Yes |
| Instagram | No | Yes | Yes |
| Telegram | No | Yes | Yes |
| WhatsApp | No | Yes | Yes |
| Viber | No | Yes | Yes |
| Skype | No | Yes | Yes |
| Messenger | No | Yes | Yes |
| iMessage | No | Yes | Yes |
Hear what music the child's listening to
If you're a religious person, you may want to keep your child away from rock music, or music that drives them away from religion and the path to salvation. If you buy the Premium version of the application, you'll be able to hear what kind of music your child is listening to, and then take steps to help your kid stay away from this bad influence.
Incoming Calls Blocking
If you think that someone is harassing your child, or if you think that someone is a bad influence on them, you can just block them easily using this feature without having to let your child know what you're actually doing. The child won't even know if they're receiving a call.
Installed Apps Blocking
Some applications are more dangerous than others. As adults, you should have a better idea of what application is malware, and what isn't. It is estimated that one out of every 10 apps on Google Play Store is a malware application that is designed to hack your phone's data or to take remote control of your device and inject harmful viruses.
This malware is usually hidden inside visually appealing apps for little kids like Barbie games or Frozen towers. Anything related to the recent animations, at least.
Website Access Restriction
If you have issues with some websites on the internet displaying indecent content, or content that is too addicting for little children, this feature is especially useful. It will help you block these websites from being accessed on your child's device. Similarly, if you're a little techy, you can even block Facebook messenger and WhatsApp server access too.
Realtime Location Tracking
It's not a parental control app if it doesn't include real-time location tracking, am I right? This app lets you see your child's location at any time of the day, as long as that phone has internet access.
Keylogger and more
Keylogger is especially useful if you wish to check what your child is typing on the phone. Similarly, it can also be used to check what your child's each application's password is. No more need to use weird hacks and scammy tricks on Facebook/Snapchat/Viber.
How does Phonty work?
Phonty uses the same technique as any other parental control application out there. One device is the host, while the rest of the devices are child devices that will have their privacy hijacked.
Step 1. Buy Phonty on their website, any plan will work.
Step 2. Install the application on your parental and child phones.
Step 3. After installing the app, you can easily set them all up and be ready to go.
Compatibility
The app works on both Android and iOS. For Android, you need an Android 7.0 Nougat+ device, while for iOS you will need an iOS 9.3.3 or later device.
Customer Service & Support
You can contact Phonty over at [email protected] or over at [email protected]. Similarly, if you live nearby, you can check out their physical address at AThinas 15Str, Suit 202, Aglatzia, PC2101, Nicosia, Cyprus.
Common Questions
Q. Is this app safe to use?
A. That entirely depends on your outlook on the application. If you wish to use it for parental control of your child, yes it is safe. But in the wrong hands, it can become quite a mischievous tool.
Q. Is it possible to uninstall Phonty?
A. Yes, uninstalling Phonty is easy. You can uninstall the app at any time via your Settings menu.
Q. Is Phonty legal?
A. It's a two-edged sword. If you use the application only for parental control purposes, the application is legal and shouldn't have any issues. But if you try to use it on someone else, you could have issues with the law.
Q. Can I track my child anywhere?
A. Yes. You can. Phonty works on various devices, and through all kinds of internet connections. As long as there is an internet connection, you can be in control of your child's mobile phone device.
Q. My app keeps crashing, help?
A. The issue maybe with your internet connection or with your mobile phone. Try restarting your internet router or re-installing your application. If the problem persists, contact the customer service.
Q. Do I need root/jailbreak?
A. for iOS users, yes you do need jailbreak if you wish to use this application. However, if you don't want to do that, you can use the application on Android without any root.
The Best Alternative to Phonty: TTSPY
If you're looking for an application that is similar to TTSPY but offers better features at a lower price point, you are looking at TTSPY. This massive collaboration of literally everything on a single application is the best parental control application in the market. Not even joking.
Features of TTSPY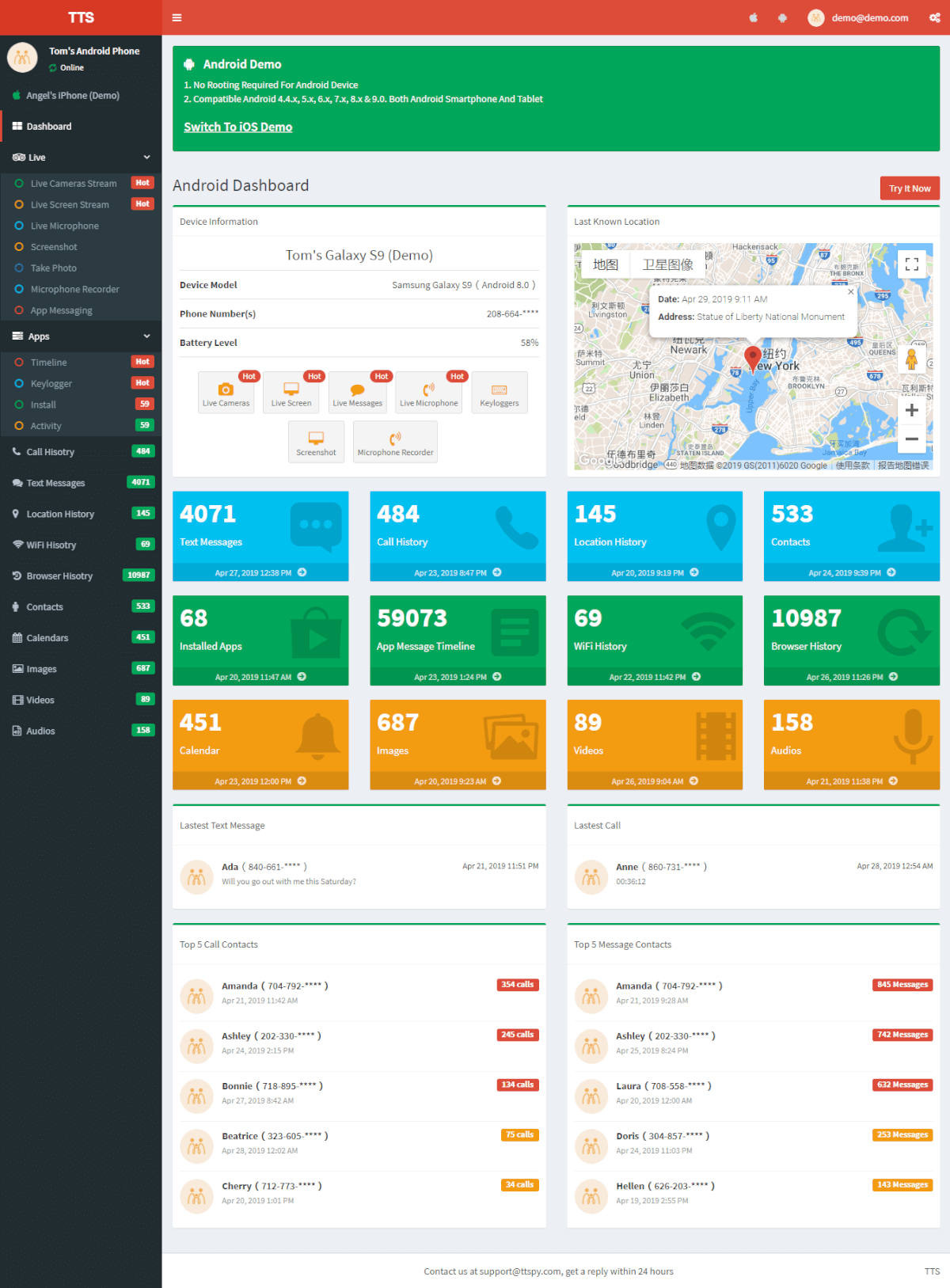 Here are some of the features TTSPY boasts so freely about:
Battery Level, Phone Number, Device Model – Check the user's current battery level, phone number and device name
Live Screen Stream – Able to see what the user is seeing on the screen
Live Microphone – Able to hear what the user is saying, all the time.
Screenshot – Take screenshots remotely.
Take photo. – Take a picture from both cameras.
Microphone recorder – Record what the user is saying.
App Messaging – Check the user's messages, on many applications like Messenger or WhatsApp.
Timeline reviewer – Check the user's timeline
Keylogger – Log what the user used at a specific time.
Activity reviewer – Check the user's activities for all time.
Call History – View who the user called
Text Messages – View who the user sent messages to
Location History – Check the user's past location history
Images, Videos, Audios – Inspect all images, videos and audios that are present inside their phone.
Live Camera Stream – Able to view and check both cameras at any time.
There are so many more features too. You will have to test out the application to truly know what TTSPY is capable of.
Conclusion
With so many features, you would think that TTSPY would be rated at somewhere in the $100 per month range. But you'll be wrong. TTSPY costs only $49.99 per month on its membership. That's way cheaper than Phony's $64.99 Premium price per month. Plus, you're getting additional benefits from TTSPY too. The best thing about TTSPY is that it works on both unrooted Android phones and stock iOS devices. You don't need to jailbreak or root your device to use this service. I'll always prefer TTSPY over Phonty, because of its extraordinary amount of features that always work.