Have you ever heard of key loggers? These keylogger tools can intercept and record everything that is typed on the keyboard of a smartphone or computer (including passwords) without anyone noticing. There is no way to detect the presence of these "naked eye" programs, as they are completely invisible.
In this article, we will explain what the key loggers are and how they work, but we want to remind you of one important thing first: using similar programs to monitor the devices of others without the consent of the owner is a crime punishable by law. The information we will give you in the next paragraphs is for illustrative purposes only, therefore we will not be responsible for the consequences deriving from improper use of the same.
Why do You Need to Install Keylogger for Mobile Monitor?
The Internet is a fantastic tool for young people to acquire knowledge, but without the supervision of adults, it can become a dangerous and destructive place.
The more connected your children are, the greater the risk that they will be exposed to the dangers that exist online and encounter inappropriate and violent content. This is when parental control is crucial in maintaining the safety of children.
The software can not do everything, but it can make a parent's life much easier, especially when children are growing up and want more and more independence. It is therefore essential to choose the right software, paying attention to the remote keylogger service, a fundamental part of sophisticated monitoring. Next, we explain what a keylogger is and why you need one.
What is Keylogger?
A keylogger is a tool that is responsible for registering every one of the keys that are pressed on the monitored device. It can be considered an equivalent to digital surveillance, revealing all the pulsations, downloads and conversations. With the keylogger, you can trace all touches on the screen of the phone in question in a discreet way, so that the user does not know that their actions are being monitored.
Keylogger: How it Works
You need to know that there are two types of keyloggers: hardware or software. The first are devices that look similar to USB sticks that are usually used to spy on computers. Simply connect them to the keyboard cable to be able to intercept all data in transit on the PC in a flash.
The latter, instead, are programs that must be installed directly on the device you want to control and that can record all the words and phrases typed on the keyboard. This type of key logger is more suitable for monitoring mobile phones: what reason would there be to attach a USB stick to a phone? None, except to make the rightful owner suspicious.
Some keyloggers even work remotely: they store data on the internal memory and then send them as reports to the e-mail account indicated during installation.
Realizing the presence of keyloggers is difficult, and the bad guys know it well. These devices are completely independent of the operating system of the PC or phone on which they are installed, which therefore fails and detect their presence. The software type keyloggers always remain active in the background and are thus able to intercept:
The movements of the mouse or the sounds picked up by the microphone.
Getting a keylogger is very simple, just do a quick search on the net to find cheap programs and devices to order. This is why it is difficult to defend oneself against this type of attack, even if not entirely impossible.
How does Keylogger Work?
It is easy to know how to use a keylogger. Once you have installed the keylogger on the phone you want to monitor, it will work invisibly in the background and will detect all the activity that takes place on that device. The keylogger software will write down all the keys pressed, also recording the conversations written in chat.
The downside of the keylogger is that it could be used by hackers for illegal purposes, but it also has a positive side. An invisible keylogger is a perfect tool for parents who want to follow conversations and know what they are doing online. This could help parents protect their children from destructive phenomena on the Internet such as cyberbullying, sexting, scams or sexual predators. So it becomes fundamental to know how to use a keylogger.
The Top 5 Keyloggers for Android
TTSPY: The Best keylogger software.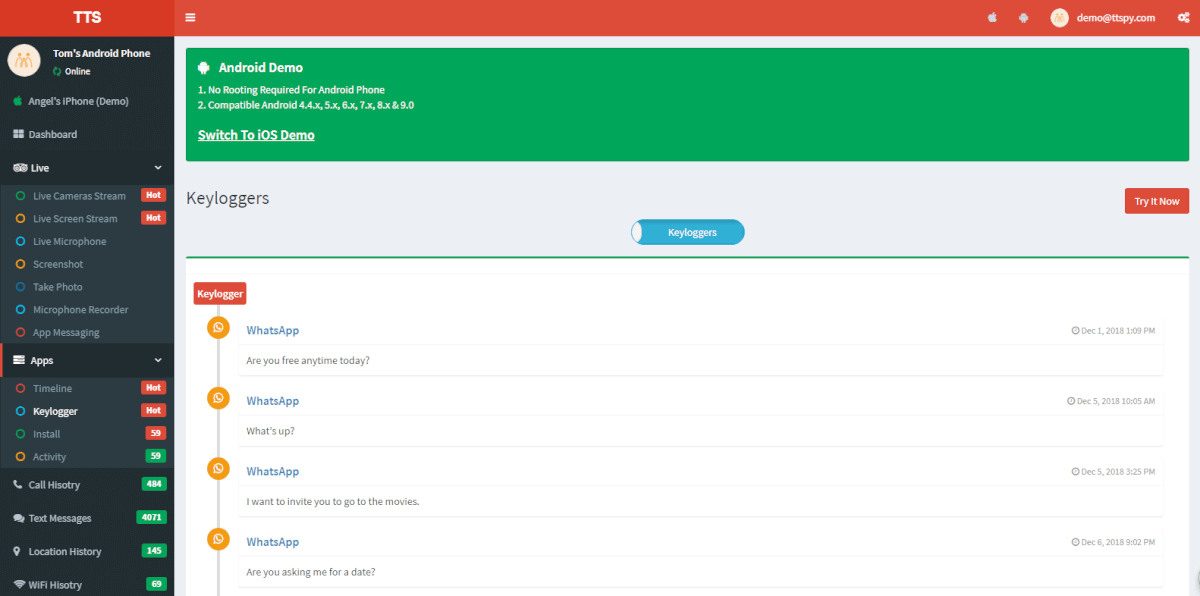 The best option in the market. Not only is it the most complete application and it works best, but it is also the one with the best support at the best price.
TTSPY is a veteran in the world of monitoring applications and from the first moment was able to position itself in the first place. It is acclaimed by the public and very well punctuated by critics.
It has a lot of robustness and excellent performance, works on most Android and iOS devices and is the one with the best value for money, this is the main reason why it is the application most chosen by users.
Features:
Support for all instant messaging applications
Control panel more optimized than the others
Updates in real-time (not once per hour)
Simplicity in its use
Various restrictions for parental control that allow the instantaneous cessation of dangerous activities
Spyera
Spyera(review) has had good feedback and its keylogging functions work quite well. The reason why the second place is won is because of its good functioning and its availability on various platforms. We can get your services even for mobile phones running PC (wow), which makes it very versatile in underdeveloped markets in terms of mobile devices.
Having said that, today the most important thing is to be able to use the application on both Android and iOS since Blackberry and Symbian are not used in quantity. While there are good reviews on its proper functioning, this comes with very high prices.
Features:
Support for the main instant messaging applications
You can capture phone lock PIN
Appmia
Appmia is more popular than the previous two and offers a wide range of features for monitoring. As for its keylogging features, it allows visualizing the texts that have been entered in the device through multiple applications.
Appmia does not provide blocking options for parental control or deletion of stored data remotely. What gives Appmia the bronze medal is the fact that it is very expensive compared to the others and according to the critics, its customer service does not deserve it. Apart from all this, Appmia allows you to monitor more than one device at a time.
Features:
Filters by keyword and by date available in your control panel
Modern and interactive control panel
TheTruthSpy
TheTruthSpy is another application that also has many negative reviews and is too basic. Many users said they could not use it at all, however, what sets XNSPY apart and positions it in fourth place is that it has a free 48-hour trial version that can be downloaded from the official website.
Apart from that, the application does not present much more than the typical functions of a monitoring application. It does not work well with devices that have been rooted or jailbroken.
The website also does not provide much more information and is hardly in Spanish or English. It does not have an online demo.
Features
Logging of all the keys that are pressed on the target device
XNSPY
XNSPY offers, along with other features typical of most monitoring applications, a keylogger that records keys pressed on WhatsApp, Messenger, Facebook, Viber, and Skype. The keylogger is basic and we can use it in both Android and iOS.
XNSPY is not one of the most chosen applications by users and does not have as much trajectory as others. Also, the key registration function is relatively new. There are still many details to polish. Added to this, its compatibility for iOS is very limited.
It does not have a free trial version and we can choose between two types of plans: basic and premium. In any case, the Keylogger function is only available in the premium version (with the current discount of% 40, it is worth USD 7.49 per month if we hire a year).
Features:
Default filters that allow you to receive notifications when certain words are entered
Filter by application
How to Choose the Best Keylogger for Android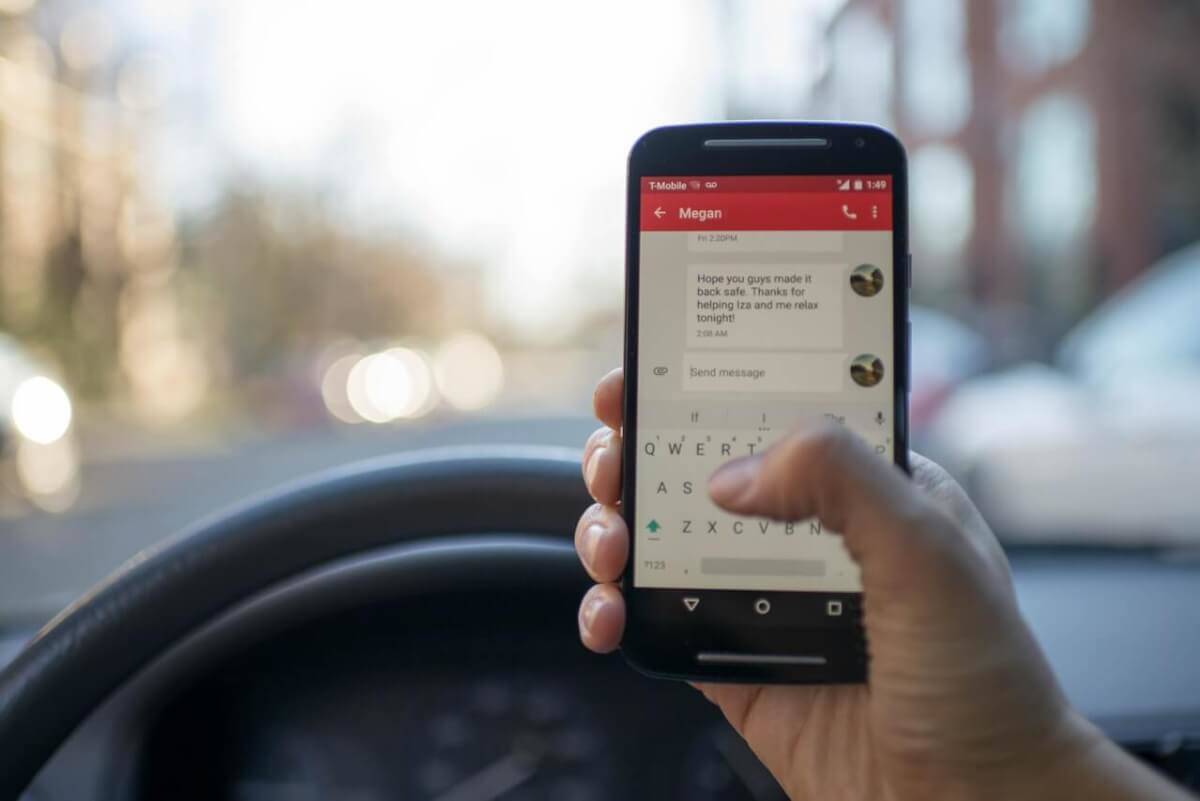 Many years ago it seemed impossible to think that the abilities of spies could be available to anyone. However, in the current digital world, technology has developed so much that a keylogger is part of more powerful espionage tools. The tricky thing may be to find the best Android keylogger since there are numerous apps available on the market. That is why we must pay for several aspects:
Installation. First of all, an Android Keylogger should not be complicated to install. It would also be advisable to look for one with a service of attention in case of having some problem, something that allows discarding those that allow installing a free keylogger.
A Keylogger for Android that offers a good service should always be kept hidden in the device where it is installed. This means that it should never be possible to discover it, something that could happen using a free Android keylogger since they have less stability.
Although you may only be interested in the keylogger function, these types of programs include a list of functions with which to spy on other aspects of the phone. These can be calls, text messages or messaging apps, emails, stored files, visited websites, and even the GPS location of the device.
The simplicity of use. An Android Keylogger has to offer an easy-to-use interface, in addition to high compatibility that ensures that it can work on any Android phone. In the same way, it would be convenient to be able to access the data obtained from various devices, such as a tablet or a PC.
All this is found in the best Android keylogger you can find: TTSPY. This tracking program stands out among the best keylogger because you can get all the data mentioned, besides being very simple, just download the keylogger to start the installation and obtain data in real-time.
Choose the Best Keylogger for iPhone
In the case of the iPhone, to install this keylogger for iOS it is necessary to jailbreak the device, in this way you can obtain the necessary permissions. Once done, this keylogger for iPhone will provide you with all the data you need.
Conclusion
If you need to monitor your child or some of your company phones, TTSPY is the ideal keylogger with which to discover any secret or password. So do not hesitate to download the keylogger to hack Facebook or other apps and find out if your child is in trouble or if their employees are wasting their time.