It has become important to be able to spy someone's Android Cell Phone Camera to keep an eye on the person and know about what they are doing at all times which is why it's just necessary to have a mobile app which can help one spy or stalk someone's Android cell phone to learn more about them. One needs to use an app in order to listen to someone's calls to know what they are doing, who they talk to and what do they talk about. This is why one needs to try the TTSPY app as it is one of the best Spy Apps out there for spying on someone's Android cell phone Camera and seeing what they are doing and even listen to them with the microphone feature.
The best thing about the TTSPY app is that it is available for both iPhone and Android devices meaning that no matter which device you are using, you can always use the TTSPY app on your phone to spy on someone. If you need an app to keep an eye on your child, friend, partner or even employee to know whatever they do then you need to use TTSPY or TTS as it is the best spying app out there for one to use with its amazing and powerful features such as the camera feature, access messages feature, live location feature, live microphone feature and much more to spy on whoever you want.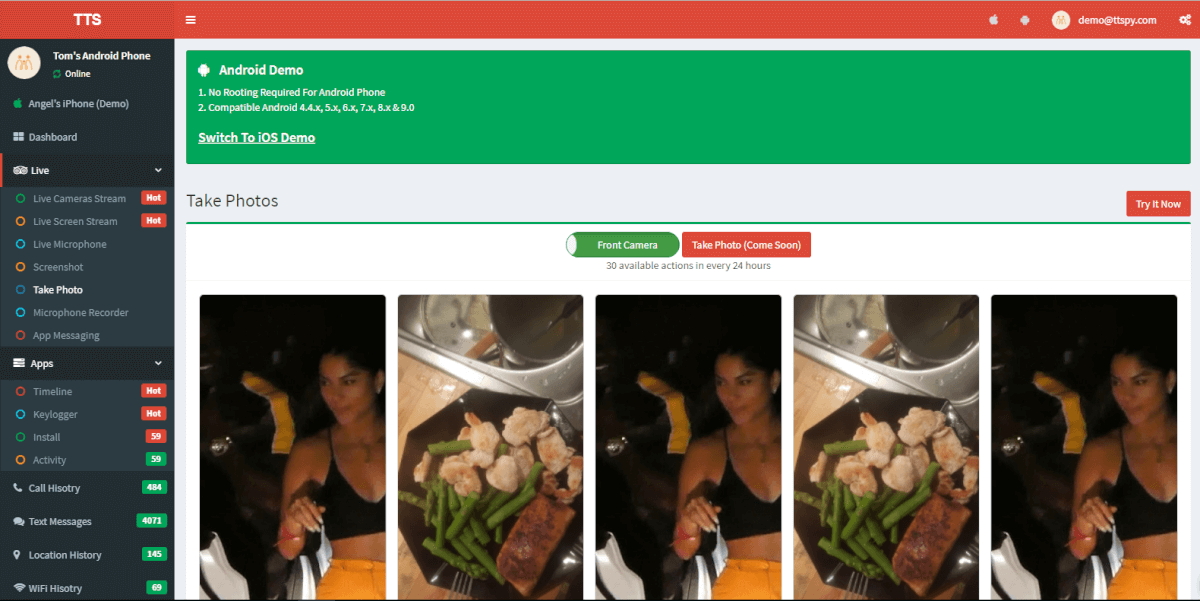 Easy to Use
It is rather easy to use the TTSPY app for spying on someone's android cell phone as the app only needs the personal details of the person one wants to spy or stalk. The app uses this information to access someone's phone remotely. The TTSPY app is very efficient as it uses relatively simple details of the person and does not require a lot of information so that you can quickly spy on someone's android cell phone camera. The app is perfect if you want to spy on someone and have access to their entire phone.
How to Spy on Someone with the TTSPY App?
Until you try it for yourself, you might not believe that you can spy on someone through their cell phone camera. TTSPY is considered the best spy camera app in the market. Before you can think about using the app, you need to download it first and for that, you need to use a third-party app that will help you download the app on your phone in a few minutes.
After you download the app, you need to open the app and register yourself on the app and select a plan for your phone. At the same time, you need to download the app on the desired person's phone that is your child, spouse or employee.
Now, you can log in to your account and the app will back up all the information on the target's person to the control center of the app to provide you with easy access to the person's phone.
When you use the app you will have remote access to the target person's cell phone camera and use it to take videos or pictures of the person and their surroundings. Other features included in the app are:
Phone GPS Location
Photos and Videos
SMS Messages and Call Log History
View Other App History and Activity such as Tinder, Pornhub, Grindr, WhatsApp, and others.
Web Browsing History
The spy camera app is compatible with most android and iPhone models. The spy camera app is undetectable so there no chances of the person catching you.
What other Spy Camera Apps are there?
Despite the fact that there are various apps that have a spy camera feature that is available for spying on someone's Android cell phone camera. The features that similar apps have are limited and of low quality. No app has all the features of an ultimate phone monitoring app like TTSPY that has just about every feature you need to spy on anyone.
Spy on Someone without Access to Their Android Cell Phone
Spy on someone's android cell phone without access to their phone by simply entering the person's number on the app and sending them a graphic message which will lead to the tapping on the message and providing you with the access you need to hack and spy on their phone.
It is only possible with the TTSPY app which uses its special software to make it happen.
Manage Multiple Devices
One of the best things about the app is that you can even manage multiple devices at the same time on the app. It is simple and easy with the user interface of the app. Other apps experience periods of lags in the speed of the apps but with TTSPY, you can quickly view all the information you need.
Innovative Features
The app provides users with the most innovative features which no other app has. Use any of the various features besides just the android cell phone camera to spy on someone.
Spy Call
Listen to all the conversations on your child, employee or spouse's android cell phone and easily track what they talk about.
Spy SMS
You also get easy access to the text messages remotely. All old or new messages will be accessible to you with the TTSPY app.
Spy Files and Documents
You can view all the files and documents on the person's phone with the app. Download these files and documents on your phone so that you can even view them offline.
Internet History
View the internet history of the person you spy on. See their searches, most visited websites and even bookmarks with the internet history feature.
Spy Location
The GPS live spy location feature allows you to get all the details of the target person and know where they go every day. Parents can use the feature to monitor their kids and employee can use it to check if employees go anywhere near a competitor's place and to even see their productivity.