The trend of social media is increasing with each passing day. Facebook, WhatsApp, Instagram, and Twitter are becoming a vital part of daily routine now. No matter, these social media platforms are becoming a source of fun for people, but at the same time, it is also becoming easier to make online friends and maybe even more than that. Your kids and teens are wasting so much of their precious time on these social platforms, and you don't even know what's hidden behind their screens.
The reason behind these concerns isn't just to lessen the screen time of your children, but it is way more than that. It is about the safety of your children, and it is about saving them from falling into the wrong hands. There is a reason why so many crimes in the world happen through these social media platforms! And you need to save your kids from becoming the headline of news.
Although technology is indeed making our lives miserable at the same time, there are many applications and software available which can help you to save yourself and your kid from those unfortunate situations.
To help you with that, this guide is going to introduce you to one of the best spy apps for Instagram and text messages. As you read on this guide, you will be much relaxed while handing over a cellphone in your child's hands next time.
Why do you need to spy on Instagram accounts and messages?
Instagram can be a great place to connect with your friends, family, and celebrities. You stay updated and know more about what's happening around you. You even share pictures and exchange conversations with many people around the world. However, the issue arises when the random conversations of your children or spouse transform into something else, and the fun moments turn into something risky and sensitive. Such conversations can have severe consequences on your life.
Instagram looks like a friendly app, but it can be dangerous for your teens. The photo-sharing feature can risk their safety and even their life.
Thus, sometimes, it becomes vital for you to start tracking the private Instagram conversations of your child, spouse, or employees. Tracking these messages and chats can allow you to monitor every bit of critical information that is being exchanged on the target device. Thus, the Instagram account of your kids should be tracked effectively to provide them the maximum protection and safety from any potential risk, which is present online!
Part 1: How to Spy Instagram accounts and messages
One of the fantastic tools for keeping an eye on the Instagram messages of your kids or even your spouse is "TTSPY App." This excellent app is not only compatible with your Android devices but unlike most the spy apps, it works amazingly on your iOS devices as well. TTSPY App comes with plenty of powerful and highly responsive tracking features. There are so many features other than the tracking feature as well, which will give you a complete hold your kid's device.
Moreover, this app is highly secure, and there are no security threats involved in it. All of your data stays encrypted and doesn't go to any third party, which is an additional benefit and is mostly missing from many other spy apps. There are many spy apps which themselves become a security threat for the users by leaking the private data. Moreover, there are many cases where hackers reportedly took private data from online spy apps.
You will experience none of these potential security threats while using TTSPY app. Thus, it keeps you and your kid safe and sound. Furthermore, if you ever come across any problem while using TTSPY App, then you always reach out to the customer service, which is still available.
So, spying has become more comfortable now with this fantastic TTSPY App, and you don't need to hire a detective anymore.
Why do you need TTSPY App on your phone?
You need to have TTSPY App on your phone due to plenty of reasons which are going to discuss here one by one. It doesn't only offer Instagram spying, but it also provides more than that!
TTSPY is excellent for parents
We understand that your teenagers love to share images and stories about their life and routine on Instagram. They have a friend circle, and they love to keep them updated as well. However, just like many other social media apps, the Instagram account of your children can also attract some wrong followers.
That is the problem with most of the parents these days. They are worried about the presence of their young ones of social engines, but at the same time, they don't know how to keep an eye on them and save them from the online threats which are ready to attack them.
If you are also worried about the exposure of your kid to risky and unsolicited frauds in the form of direct messages, then TTSPY App can help you. The Instagram monitoring feature of TTSPY App can save you and your child from online bullying and potential threats.
Using this feature, you can view the private messages and conversations remotely on the target device. So, you don't need to worry about your son or daughter anymore when you have this app.
All you need to do is to install the TTSPY App on your kid's smartphone, and you will automatically receive the updates on your phone. Moreover, you can also get access to various Instagram parental controls and monitor all the activities efficiently.
It can save your business
TTSPY App is not only to monitor your kids. It is also useful for your businesses and offices. If you own a business and you want to make sure that your employees are loyal, you can monitor their devices using this app. You can gain access to their social media accounts, including Instagram, and also check out whether they are using the right marketing tricks or not.
Moreover, you can also give access to your social media accounts to your employees using this app, and they can perform their marketing job efficiently under your supervision. Thus, it makes communication with your employees better inside a company.
Furthermore, using this app, you can also view the private messages and chats which are taking place between your staff members. Thus, you can see if the right kind of information is being exchanged in your office. You can also make sure that any confidential information about your company or business isn't going into the wrong hands.
Detailed Features of TTSPY App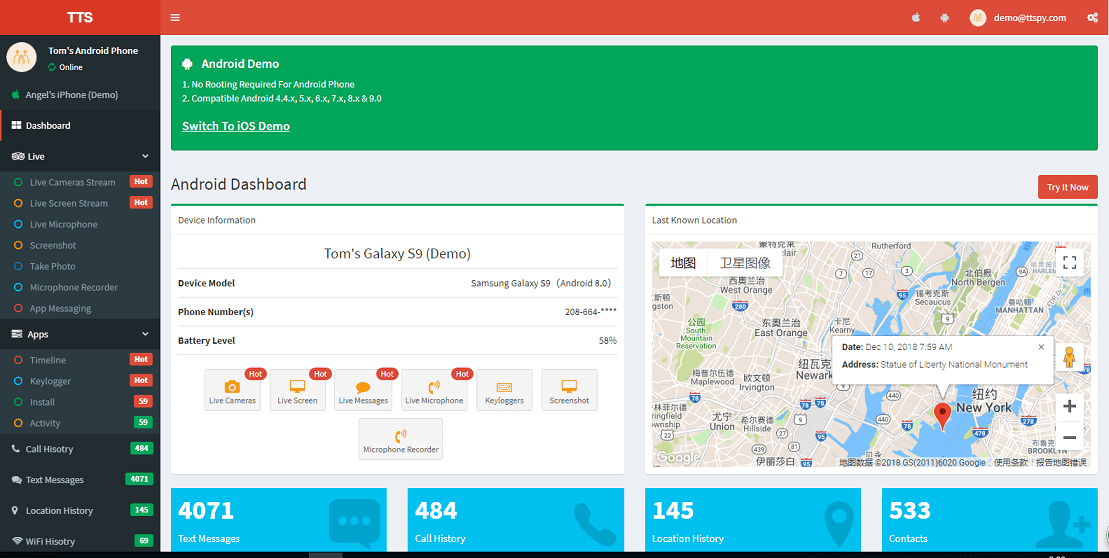 Other than the spying feature, you can also benefit from other amazing features of this app. It doesn't only allow you to track your target device, but it will also offer additional features where you can monitor the live screen and follow the call logs and messages on the target device.
Let's move forward and explore other features of TTSPY App.
GPS Location Tracking
One of the best features this app is providing is the location tracking accessibility. Using this feature, you can spy not only the whereabouts of your kids but also the exact location. Thus, you don't have to worry about his company anymore.
Moreover, you don't need to keep calling your child or spouse about their location after every hour. Thus, TTSPY offers real-time location tracking as well as the complete route history of your target device.
Access to Social Media Platforms
The social media platforms are perhaps the most critical cause of many crimes that are taking place these days. From child abduction to murdering and even more severe crimes, anything is possible and more accessible with social media platforms. Here is the point when TTSPY App can save you!
It gives you access to many social media apps such as Facebook, Instagram, and WhatsApp. Using this app, you can track and monitor the messages and conversations happening in the target device. Moreover, you can also see the photo gallery, videos, and followers on the Instagram of the target device.
Thus, you get access to the whole new feed and messages on the Instagram account.
The call log tracking of TTSPY App lets you track every outgoing and incoming call of your child's device. You cannot only see the call logs, but you can also listen to live conversations while your child or spouse is talking to someone. Moreover, no matter which device your child is using, this app is compatible with all and hence solves all your problems.
Access Live Cameras and Live Screen
One of the unique features of TTSPY App is that you can get access to the live screen and camera of the target device. Thus, in severe cases, if you feel like your child is in danger or isn't responding your calls and texts for a longer time, then you can use the live screen feature of this app.
If you want to spy on the direct messages of the target device, then you can use the direction messages spy feature of TTSPY App. You can also refer to the live demo of this app, which is present on the official website of the TTSPY App to know more about the working and features of this app.
How can you benefit from the Instagram Spy feature of TTSPY App?
TTSPY offers the best Instagram spy feature, which allows you to view and monitor the private Instagram messages and stories on your target device. It gives you a chance to protect tour children, your spouse, and even your business from falling into the wrong hands and ulterior motives.
Using this amazing feature:
You can view the direct messages and conversations on the Instagram account of the target device. The good thing is that you can track these messages real-time and save your loved ones promptly if you see anything suspicious.
You can also access complete threads of Instagram messages and chats on your PC. Moreover, it offers you a safe, secure, and user-friendly dashboard.
Other than accessing the chats and conversations, you can also save a conversation which you can read later on.
Other than the chats and conversations, you can also access the photos, videos, and view the entire newsfeed of the target device.
Part 2: How do TTSPY App works?
TTSPY App is easy to set up and even more comfortable to use. All you need to do is:
Buy the TTSPY App after subscribing it. You can visit the official site to experience the live demo and make up your mind.
After buying it, you need to download the app and install it on the target device. You will get the instructions to install the app through your email.
You are done with 95% of your job over here. Rest of the job will be done by TTSPY app. You need to login to the control panel and begin monitoring the Instagram accounts, direct messages, stories, and news feed real-time.
That's how easy it is to track the Instagram accounts and conversations of your employees, staff, spouse, and children.
Final Words
A spy app like TTSPY App is the best way to spy the messages and stories on Instagram. Due to the rapidly growing technology, now you can do anything you want from spying on your spouse and children to controlling their cellphones and tablets. This app makes the spying process easy and smooth for you. For all those concerned parents out there who are looking for a solution to control their child's online activities, this app is the ultimate solution.