As an employer, parent or even a friend in today's world, it has become more challenging to monitor your employee, child, friend or partner especially with the prevalent use of smartphones. One does not have any idea what the person is doing on their android cell phone, if they texting an ex, sharing confidential company information with a competitor, watching porn or using a hookup app like Tinder or Grindr to hook up with some. Your partner could be cheating on you sitting right next to you, which is why it is important to monitor their phone activity on android cell phones.
All types of things can be done on the android cell phone which is why it is important for you to monitor what the person does when on the phone. With the availability of the internet, your child could be watching anything inappropriate or harmful for their development. He could end up developing dangerous habits such as masturbation when watching porn on his phone at a young age which has already become a critical issue around the world. Employees could be searching for new jobs online.
If you have the right tools then monitoring phone activity is very simple. It all comes down to intricate and intuitive software in this golden era of technology to monitor phones. The need to monitor your child, partner or employee's phone activity grows day by day. The need for a monitoring phone activity has grown considerably which is why one needs to try the best android cell phone app which is TTSPY.
TTSPY- Best App to Monitor Android Cell Phone
TTSPY is one of the safest ways through which one can monitor phone activity on their device. It has quickly become one of the most popular monitoring tools that cover a wide area of specialization. Whether you are dealing with your child's time schedule to ensure they study, track their GPS location or want to use any other feature to monitor phone activity, you need to use TTSPY. You can manage more than one child's device at the same time. You can use the app to monitor several employees or your multiple partners. The app lets you know everything you want through:
Geo-fencing and Location Tracking
Web Filtering
Checking Apps
Screen Time Control
Smart Control
There are certain things that set TTSPY apart from other app in the market such as the reasons below.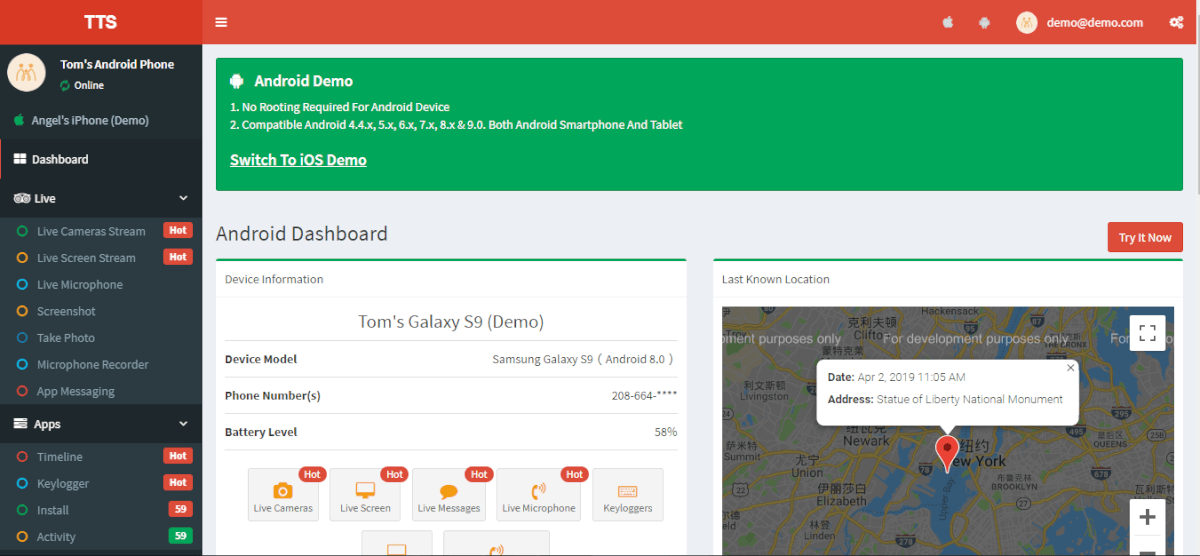 Easy to Use and Understandable
TTSPY has a beautifully built and friendly user interface. It is easy for you to work on and configure the settings. Anyone can effectively use any of the features on the app to monitor whoever they want and it ensures safety.
Outstanding and Extensive Range of Features
The app provides you with the ability to control and monitor the targeted person's phone activity; TTSPY is standalone software with the best world class features which make monitoring easy and convenient. The performance of the features on the app easily transcends other apps when compared.
Affordable
Getting monitoring software which caters to your needs and provides you with the tools is of paramount importance, especially depending on your budget. TTSPY is a safe, reliable and affordable software app when compared to other software apps. You will get the best monitoring features for a remarkable and fixed price.
Performance
The key specialty of the app is its performance, TTSPY executes at a fast pace to ensure that the user enjoys using it. The software has been designed to provide you with perfection and has an outstanding mode of execution with features like location tracking, messages and calls accessibility, spy cameras, spy microphone and a lot more. Some of these features are listed below:
GPS Location Tracking: The features is a handy one as it allows you to view and get the real-time location of the targeted person to know each place they visit and how frequently.
Monitoring of activities: You get to view the way the targeted person uses their phone and learn about their most-used apps as well as their activities on those apps, for example, do they use hookup apps like Tinder or Grindr, or do they watch porn on apps like PornHub.
Screen Time Management: As a parent, it is important to set limits on the phone usage of your child which is why the screen time management feature gives parents the control they need in order to do so.
Web Filtering and History: TTSPY gives you the ability to manage and control the type of content the targeted person is exposed to by monitoring their browsing history and checking their bookmarks as well as most visited sites.
How to Monitor Phone Activity on Android Cell Phone with TTSPY
Step 1
Start with downloading the app in order to download the app you need to use a third-party app. The TTSPY is available for android and iPhone devices. You do not need to root for android devices or use jailbreak for an iPhone.
Step 2
Create an account on your phone and the targeted person's android cell phone or any other phone. Once you have created the account, you can sign in to the account.
Step 3
Select the device which you would like to monitor on your device, if it is your child, employee or partner.
Step 4
Select the operating system of the person whose android cell phone you want to monitor.
Step 5
Now you can proceed and connect the two devices that is to say your device and the targeted person's device.
Step 6
Once the two devices have been connected, the administrator console will show and you can select any one of the features to monitor the phone activity on the targeted person's android cell phone.
TTSPY is the ultimate app for you to monitor someone's phone activity on an android cell phone. With just the app, you can access everything.