In the fast-paced world, it is extremely difficult to keep an eye on every activity of your children. However, the emerging digital age can negatively affect children's mindset and behavior. Parents are always confused regarding the technology provision and access to the children. The emerging usage of internet and modern gadgets has led the children toward unnecessary exposure. Other than that, the presence of disturbing, illegal, age-inappropriate, and explicit content is extremely dangerous for young minds. Also, the number of applications and devices are gradually increasing due to which it is physically impossible to check the social circle of the children. Simply, you cannot supervise your children considering the advancement in this technology. If you are busy with your routine and are unable to monitor your children's activities on these gadgets, then the parental control applications can truly help you.
The parental control devices are developed considering the concerns of the parents. There are multiple benefits of utilizing parental control applications. Through using these applications for monitoring your children, you will be able to block unwanted and explicit content. You can also limit usage by controlling the screen time and restrict access to certain applications that are not appropriate for your children. Basically, these applications can help you in ensuring that your children are accessing the technology and attaining knowledge without getting indulgence in any negative activities.
How to use TTSPY?
In order to use TTSPY, install the application in your children's gadget for the proper surveillance. Right after the installation of this application, all the data from the targeted device of your children will be transferred to the control panel. You can access it from multiple devices such as smartphones, PCs, and tablets. Through the control panel, you will be able to set restriction over your children's device in order to control their online and offline activities. You can even block certain content that is explicit and age-inappropriate. This application will help you in monitoring your children's activities at any time of the day. Other than that, it will help you in accessing the location of the children. You will be able to inspect your children's social circle, connection, and friend. Other than that, you will be able to check their online activities through the internet.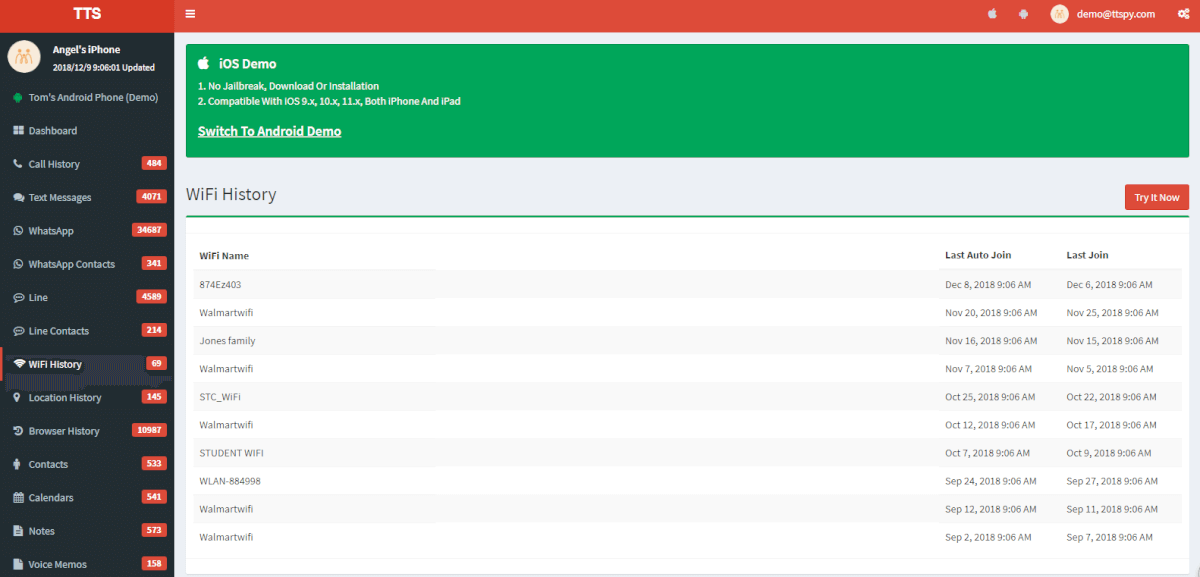 Why prefer choosing TTSPY?
TTSPY is one of the most recognized and user-friendly software applications that ensure the provision of various useful services. Among these services, parental control is one. This application is compatible with all the type of mobile operating systems. This doesn't require the jailbreak to access the device of your children. These devices ensure the provision of all the safety and security measures for the concerned parents. In this way, you can keep your children away from any alarming situation and danger as well. The features that make this application the best choice for the parents include:
Application blockage: Through the usage of this software in the targeted phone, you will be able to add the inappropriate and non-essential application in the blacklist. So, there will be no need to worry about your children accessing any inappropriate content.
Online filtration: In order to protect your children from the wrong side of the internet, you can use this software. This parental control software will basically help in blocking certain pictures, website, and content that is not suitable for the young ones.
Panic alert: Through the location access and complete surveillance, you will be able to check the location and instant alert of your children in an alarming situation. This feature is extremely beneficial for working parents.
Screen time limit: In case you want to limit the usage of gadgets and technology for your children, this application can be extremely helpful. It will allow you to limit the screen time and create a certain rule to maintain discipline for your children.
Some other software
There are various parental control applications that claim to provide assistance with the surveillance of your children's activities. Here are some of the similar software that helps in controlling your children's routine;
Zift: Zift is one of the parenting control applications for filtration for your children's gadgets. This modern application helps in tracking your children's location, usage, history and, activities over the technology. Zift is one of the highly recommended software to attain the desired security for your children.
Norton: Norton family premier provides all the essential features for the parents to control their children's usage of the gadgets. It offers all the features that are vital for the children's security. This application is ideal for both Android and IOS devices to attain location tracking, web filtration, monitoring, and time management for the children.
Kaspersky safe kids: This user-friendly application for parental control is extremely helpful for the parents. This application helps you in filtering websites, setting time limits, and managing all the applications. Other than that, this parental control application also helps in geofencing and location tracking which are two essential features required by working parents.
Not all the parental control service provider application are the best, but TTSPY is one of the best filtration and monitoring app for the android and IOS devices. It delivers all the legal and affordable services that are essential to detect the activities of children on various gadgets. Parents on a budget definitely need to consider this application for their children.
Final verdict
TTSPY is one of the highly recommended parenting control application for the concerned and worried parents. Through choosing this application, you will be able to attain free trial before the purchase. In this way, you can decide if the features are suitable for you or not. This application provides a diverse range of features that are updated and exclusive. Other than that, it offers compatibility with a diverse range of mobile networks and gadgets. Also, it doesn't require excessive efforts as it is easy to use and extremely reliable device considering the concerns of parents. Therefore, TTSPY can be considered as the best choice for parental control.