Parenthood is not an easy task. If you have children, you will agree with me that child upbringing, although interesting, is a herculean task.
With the advancement in technology, children are more exposed than never. This makes it extremely necessary for parents to step up in their parenting role. The fact that every child in the 21st century has access to mobile devices at an early age makes your job as a parent more difficult.
At all times, you have to constantly monitor their activities on mobile devices, as well as on the internet. In fact, you should monitor your child's call history – know who they call, text, and what they are saying. But you can't be with your child at all times. This makes things a little bit complicated.
Don't worry; we have a solution for you. TTSPY App is what you need to monitor your child's call history. Whether you are at home or in the office, this amazing app will give you access to your child's call history.
Why You Should Use TTSPY APP
TTSPY App is every parent's dream comes to reality. It is a mobile monitoring solution that keeps you closer to your child even from a remote location.
With this app, you can play your parenting role from a remote location. In fact, you can better monitor your child's call history, and be able to protect them. Even if your child wants to keep his/her call history private, TTSPY app will not miss anything.
So, if you are concerned about who your child is calling when you aren't at home, then this app is perfect for you. With TTSPY, you can know exactly what your child talks about when you aren't there.
It actually makes you calm; when you know that you can track your child's call logs, know who they are talking to, what they are talking about etc. With this information at your fingertips, you can easily protect your child.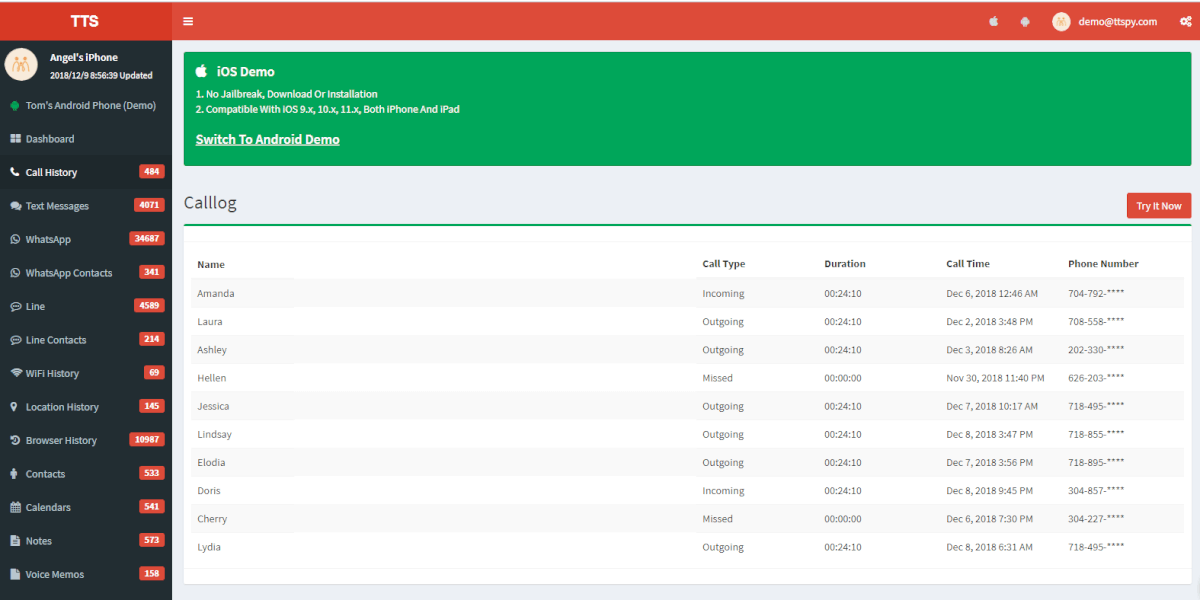 How to Use TTSPY APP
The TTSPY App is user-friendly and doesn't require any technical training to operate. Even parents that aren't tech-savvy can use this software unaided. We have explicitly explained how to use the TTSPY APP to monitor your child's call history below.
You have to download the app on your mobile device before you can use it. Interestingly, it is compatible with the Android and iOS operating systems. It is, however, advisable to use a third-party app to download the software on your mobile device.
Once you are through with downloading the app, fill the details of the person you want to spy on. These details are important, and you must fill all the areas required, otherwise, you will not get an optimal result.
After entering your child's detail on the App, several features will pop up. Select "Monitor call history option". After the selection, you will have a full view of the live streaming of your child's call history. It is that easy.
From the moment you download the app and configure it with your child's details, you will be able to monitor his call history.
Other Software Parents Can Use to Monitor Their Child's Call History
Outside TTSPY App, some parental control software can also use to monitor their child's call history. Some of these phone monitoring apps are great and have breathtaking features. But they all have one thing in common – they are either compatible with android or iOS, none is them provide an app that is compatible for both android and iOS.
Below are other Phone Monitoring Softwares parents can use to monitor their child's call history;
PhoneSpector
PhoneSpector is amazing software parents can use to monitor their child's call history. It is easy to use and enables you to have live access to your child's mobile device. It is relatively reliable.
Highster Mobile
The Highster mobile spy app has been in existence for about a decade now. This software has several advanced features, and it will be very effective in tracking your child's call history.
Auto Forward Spy
Auto Forward spy is great for tracking call history and text messages. They been online for half a decade and have been upgrading the software to meet up with the current technological trend.
Sure point Spy
Sure point spy is user-friendly mobile monitoring software. It is relatively cheap and offers value beyond the price. Outside monitoring call history, this app can also track your subject's email, text messages, videos, pictures, etc.
Easy Spy
Easy spy has more advanced features. It has a GPS that can track your subject's phone, retrieved deleted messages, etc.
Why Choose Us (TTSPY APP)
There are several mobile monitoring software out there. These different apps have great features, but we are unique. Our mobile spy software offers the value that most other apps can't offer.
TTSPY App is reliable, dependable and doesn't lose track when monitoring your child's call history. Irrespective of the anti-monitoring software your child is using, his/her mobile device can't escape our software's tracking.
There is no way your subjects will know that their phones are being monitored if you choose to remain anonymous. The best part of installing TTSPY app is the fact that it has the best user interface. Using this software will definitely exceed your expectations.
The fact that our spy software allows you to monitor your child's call history from a remote location makes it a perfect choice for you. This means that you can always monitor your child's call wherever you are – from the office, market, or any other location.
This means that with TTSPY app, your child's call history will become a 'goldfish in a bowl – Trust me, there is no hiding place for a goldfish.
Conclusion
When it comes to tracking your child's call, TTSPY App remains the most reliable and affordable software in the market currently. Compared to the value this software is offering, its price is very cheap.
You know the interesting aspect of our software? It worth every dollar you spend to install it. Download TTSPY App now, and have your child's call history at your fingertip.