Women are often suspicious about their husband's activities that often lead them to doubts. It is really difficult to monitor every action of their men. However, the feeling of getting cheated upon often scares them. In today's fast-paced technological world, people are virtually connected through their smartphones.
In order to clear all your doubts, it is important to find evidence that supports your doubts. For this purpose, you have to spy your partner and keep an eye on their every action. The best way to attain all the information is to spy your husbands' phone and specifically the text message. In case, you want to know what is going on your husband's phone all the time. It is nearly impossible to check his phone without his consent.
TTSPYとは?
The only appropriate solution to check someone's activity on the phone is the usage of spy software. In this way, you will be able to keep a virtual check on him. In fact, you can do all this without letting him know and without having possession of his phone physically. People even delete most of their data from the phone, so, the spy software can assist you in attaining immediate information. For this purpose, you can utilize the spy app called "TTSPY".
TTSPY is basically one of the most trusted, secured, and advanced technological mobile spy software that can be used for numerous security purposes. The majority of the people utilize this software to keep parental control and check over the employees on the premises of the offices. However, if you have some doubts about your partner and you are noticing some of his suspicious activities on the phone, then this spy application can be extremely helpful.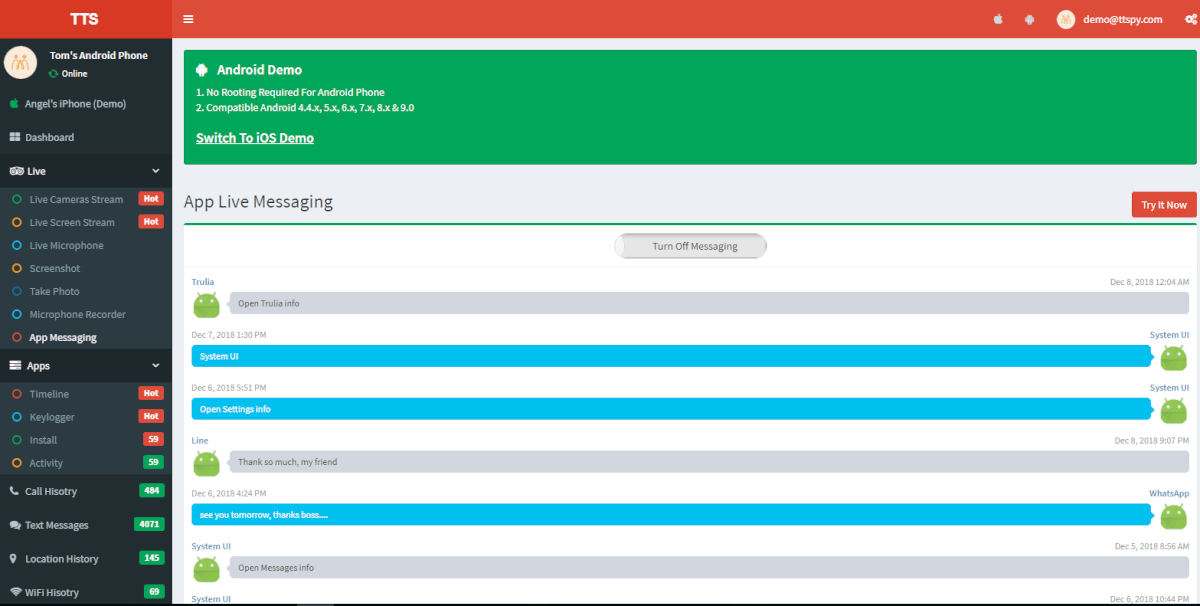 TTSPYの使い方は?
In order to clear your doubt without messing your relationship with your husband, this advanced software can help you in secretly accessing text messages. You will be able to attain all the records of the text messages on the online control panel of your device. In order to use this device, install it in your husband's device. This app is completely hidden and invisible and wouldn't appear as an installed application on any device.
Other Spy Software
There is multiple other software that claims to provide you access to someone's phone. Among them, some of the common names include Phone Spector, Highster Mobile, and Auto Forward Spy.
Phone Spector: It is one of the latest software spy application that can help you access someone's phone without attaining the possession.
Highster Mobile: Highster Mobile is extremely professional to deal with cell phone text messages. It can assist almost all sorts of gadgets in order to properly spy someone.
オートフォワードスパイ: Auto Forward Spy is another well-reputed spy software that can help in attaining information from the devices. It is known for its easy to use interface.
In case, you are confused among these numerous options, then you should consider the one with the unlimited upgrade, easy usage, professional assistance, and leads in technological advancement.
Which spy software should be considered?
Almost all the spy software application claims to provide the required services. However, there are some basic features that you should consider before considering the spy application to attain secret access to your husband's phone. The two most important and considerable features are:
Customer service: It is extremely important that someone can assist you with all your problems associated with the consideration of any spy software. Therefore, consider the application with a proper customer care service provider, especially in the form of the phone number and email. This will also help in analyzing that the company is legitimate. As a matter of spying your husband's cell phone can get awkward, so it is really important to attain proper guidance.
No charges: You should not consider the spy software that is costing you an arm and a leg. Especially, when there is numerous software that are providing the services for free. Other than that, there are some scammers also who ask for a small initial investment. Later on, it results in never-ending debt amounts. When you are spying on someone through this software, you are unable to cancel the services too. Therefore, consider the application that is free of cost.
 Why consider TTSPY?
TTSPY is one of the leading software that can be used through multiple devices in order to spy your husband's phone. It is one of the powerful applications that provide various features. All of these features can be attained free of cost. Other than that, TTSPY provides customer services that can assist the user in all the difficulties without creating any panic. Therefore, TTSPY can be considered as the first choice to spy someone without letting them know. In case of a text message, you will attain immediate access to all the messages on your phone. You can read them secretly. You can even access multimedia attached to the messages. Through TTSPY, you will be able to attain a user-friendly experience and easy to use interface.
TTSPY has almost all the essential features required for the SMS trackers which include the ease to use. As a user-friendly application, using TTSPY is not rocket science. Another feature is quick installation as the installation requires a few minutes hardly. There are no charges for the services, therefore, this application is absolutely inexpensive. Most importantly, this application is undetectable which means proper stealth provision.
When you choose TTSPY, it is one painless procedure to download this application and access someone's device through a third party application. The software is absolutely in stealth mode and helps you in accessing all the text messages.
最終評決
TTSPY is the company that assists you through step by step instruction, which is essential to activate the software. The procedure is simple and extremely quick. In this way, you can install the application in a few minutes. Initially, you have to physically access the targeted phone. Other than that, there is no need for the Jailbreaker in the case of the iPhone.